Italy tax collectors formally notified Maradona of his debt: 39 million Euro
Saturday, October 19th 2013 - 15:36 UTC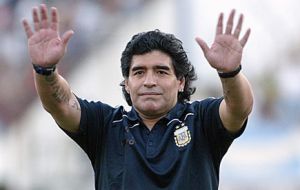 Italy's tax collection agency says it has formally notified Diego Maradona that it will begin procedures to freeze his assets in Italy to pay off his tax debt of 39 million Euros or 53 million dollars.
Equitalia confirmed news reports saying its agents had served Maradona with the notification in his Milan hotel room, and that he signed the documentation. The Argentine great was in Italy to promote a video series on his life and watch his old club Napoli play Roma.
Maradona's Italian debts stem from alleged unpaid taxes during the time he played for Napoli from 1984-91, when he helped the club win its only two Serie A titles.
In previous visits to Italy, tax police have confiscated two Rolex watches and a diamond earring from Maradona.
Maradona is best remembered in the UK for scoring the controversial "Hand of God" goal in Argentina's 2-1 World Cup win over England in 1986.
His fellow Argentine Lionel Messi is another high-profile footballer to run into legal problems over tax evasion.
Messi, who plays for FC Barcelona and is widely recognised as the best player in the world, owes the Spanish government £3.4m in unpaid taxes. However Messi's father who allegedly manages the son's assets reached an agreement with the Spanish tax revenue office.