Peru's Humala reshuffles cabinet and names fourth prime minister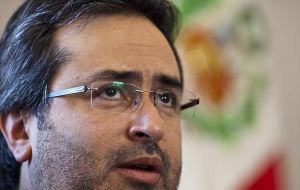 Peru's Prime Minister Juan Jimenez said on Tuesday he is leaving President Ollanta Humala's government and that other cabinet changes will soon be announced by his successor - a local governor and former business manager.

Jimenez, a human rights lawyer, said in a televised interview that he will be replaced by Cesar Villanueva, the regional president of the northern department of San Martin.

"Every cabinet has its end," Jimenez told journalist Alvarez Rodrich on local cable channel ATV.

Jimenez declined to say who else might be resigning as part of an expected cabinet shuffle this week - more than a month before ministerial changes typically made in December.

Apparently Finance Minister Luis Miguel Castilla and Energy and Mines Minister Jorge Merino would likely keep their positions as they have since the start of Humala's government in July of 2011.

Castilla, a favorite of investors, has been rumored for months to have been planning to resign, despite repeatedly denying that he had any intention to do so.

Villanueva, widely respected and known as an efficient administrator, will be Humala's fourth prime minister.

Humala's first year in power was marked by anti-mining protests in Peru's mineral-rich Andes that turned deadly.

Jimenez presided over a 15-month period of relative calm in the Andean country that is rife with social conflicts and disputes over natural resources.

Jimenez's announced departure follows criticism of him after he appeared to dismiss concerns about crime as mere "hysteria."

Polls regularly show that controlling crime is a top priority for Peruvians.

The popularity rating for Humala, a former military officer elected on promises to spread the benefits of Peru's robust economic growth rates more broadly, has dipped to the lowest levels of his presidency in recent months.