"Argentina is on fire because of inflation" says leading businessman
Friday, November 22nd 2013 - 03:46 UTC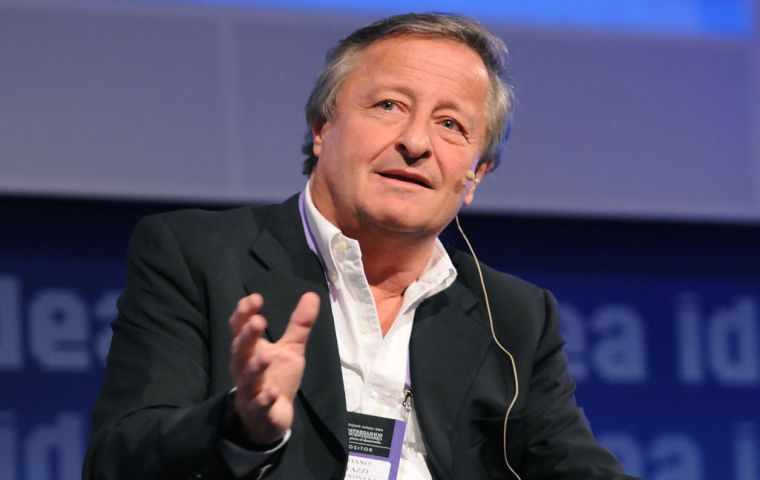 Fiat Argentina CEO Cristiano Rattazzi said that "Argentina is on fire because of inflation" and called on the newly appointed cabinet chief Jorge Capitanich and Economy minister Axel Kicillof "to work hard to bring inflation down".

"Inflation according to different estimates is in the range of 20 to 30%, only below that of Venezuela, 54%, and Sudan a country in war" pointed out the head of one of the leading manufacturing companies in Argentina. He was speaking at a seminar organized by a financial publication.

"I call upon the new authorities to bring inflation down to one digit, if not, it is not healthy for the country or long term planning; the country is on fire because of inflation".

This is not the first time the leading businessman and a member of the family which owns Fiat has warned about inflation. However this time it was done before a relevant group of domestic and international corporations' leaders and a few minutes after cabinet chief Capitanich had announced that a new CPI, Consumer Prices Index is in "the final stages of elaboration".

Inflation and GDP information had become strongly questioned under former Domestic Trade Secretary Guillermo Moreno, to the extreme that even the IMF had censored Argentina because of the controversial and unreliable Indec indexes.

"This story does not stand for ever", recalled Rattazzi who a month ago during another business conference publicly warned about the implications of the inflation problem. "Anybody doubts that inflation in Argentina is not the 10% Indec tells us?", he asked the forum at the time.

Cabinet chief Capitanich was quoted saying that "government has reiterated on several occasions that the new inflation index is a question of time, in its final process, so most probably it will be ready and implemented in the first quarter of next year and thus it is a point that belongs to the objections from the past".

Rattazzi and the Argentine automobile industry are very much concerned about inflation and the so called 'Argentine cost' since the sector is responsible for 6% of the country's industrial GDP and 1% of national GDP, plus the main item of manufactured exports.