Algeciras mayor highlights 'English occupation' of Gibraltar and the Falklands
Wednesday, April 9th 2014 - 07:03 UTC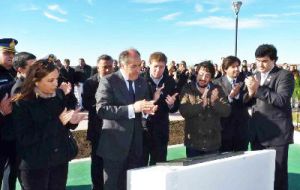 The mayor of the Spanish town of Algeciras, Jose Ignacio Landaluce flew back this weekend from Argentina, where he had attended a twinning ceremony with Rio Grande, Tierra del Fuego that sought to highlight the 'English occupation' of Gibraltar and the Falkland Islands.

The mayor, whose trip drew flak from the Spanish PSOE opposition in the Algeciras town council, also attended a series of events to commemorate the 32nd anniversary of the Argentine invasion of the Falkland Islands.

Last Friday Landaluce addressed the twinning event and spoke about the environmental and cultural 'similarities' between Algeciras and the Rio Grande. But a section of his message centered on Gibraltar and the Falklands.

"There is another characteristic that unites us, and does so through a pain that brings us close, very close, something that is ours, and that is our territory," he reportedly said.

Landaluce said both countries had made their claims in the UN and other international forums "…in the knowledge that conversations between sovereign states must also listen to the populations that live in the two colonies."

"Here the Falklands, and 11,000 kilometers from where we are, the Rock of Gibraltar," he said. "Brothers from Rio Grande fervently hoping to see a white and blue flag over [the Falklands], and us maintaining a sovereignty claim for over 300 years."

The mayor's trip was sharply criticized in sections of the British press and in Algeciras itself, where the twinning move was only revealed on the eve of the mayor's trip.

Andrés Dachary, the official responsible for international relations in the Rio Grande municipality, reflected on the negative coverage that the twinning event had generated.

"What justifies such as disproportionate response?" he asked, according to reports in the Argentine media. "We believe this proposal has touched a nerve and introduced a rule of play that did not exist in the logic of the Rock of Gibraltar and the Falklands."

"The potential that this has is what has unleashed this response."

When it was first unveiled in Rio Grande last November, the municipality's top official, Gustavo Melella, said that both cities shared a common feature. "Part of our land is occupied by the English," he told Argentine reporters at the time. "We are in the same situation".