Argentina media makes it a day with the Home Office reference to Malvinas
Monday, May 12th 2014 - 06:25 UTC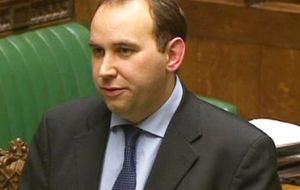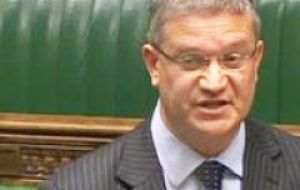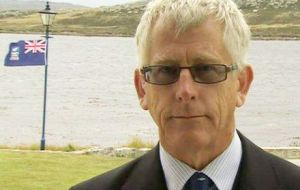 The Argentine media has given extensive coverage to the Foreign Office's glitch of calling the Falklands by its Spanish name Malvinas in several documents, and the furious reaction in Parliament, as was reported by the Sunday Express.
According to the article after sheepish Home Office officials blamed the gaffe on a glitch with its computer software, one disbelieving MP asked: "Where did they buy it from? Buenos Aires?"
Labour MP Thomas Docherty also challenged Foreign Office minister Hugo Swire to ban all government departments from using the name which could be seen as encouraging Argentina's claim to the Islands.
The humiliating error has been repeated by the Home Office on "numerous occasions" since Islanders overwhelmingly voted to remain British in a referendum last year.
Sukey Cameron, the Falkland Islands government's representative in London was "privately seething" that repeated attempts to stop the practice had been ignored.
Earlier this year the Department of Business, Innovations and Skills used "Malvinas" in statistics of students from British Overseas Territories studying in Britain and last year Britain's embassy in Colombia was taken to task for repeatedly including the Argentine name in a series of Twitter posts.
The latest Home Office document, addressed April 14 and seen by the Sunday Express, shows bungling bureaucrats are using the address "Falkland Islands (Malvinas)".
Foreign Office minister Hugo Swire last week told Parliament his department had been "in contact" with the Home Office on the issue, though he claimed incidents were "isolated".
Yet he refused to issue a cross- government ban on the term, despite Islanders' claims that they had been receiving documents sent to the "Malvinas" for more than a year.
Mr Docherty said: "It is all very well saying these are isolated incidents but clearly they keep mounting up. Now the Home Office is blaming its error on software.
"If that is true, then it begs the question where did they buy it from? Buenos Aires?
"It seems clear to me that what we are really looking at is political correctness by officials.
"The Foreign and Commonwealth Office knows the Falkland Islanders have been offended.
Andrew Rossindell chairman of the All-Party Parliamentary Group on the British Overseas Territories said: "It is shocking that some civil servants are so out of touch they do not understand a fundamental thing like the fact that the name Malvinas does not exist in British law.
"Doing something like this plays straight into the hands of Argentina and is an insult to the Falkland Islands.
Former senior Falkland Islands assemblyman Dick Sawle said: "I expected better than this. It is absolutely outrageous particularly after we voted so clearly on the issue."
Last night a Home Office spokesman said: "We apologize to the people of the Falkland Islands for this mistake.
"The Home Office bought software that included this inappropriate default setting. We have taken measures to ensure this does not happen again.
"British soldiers died to defend the sovereignty of the Falkland Islands and along with the rest of the country we honor their memory."