Relief: airports could soon have devices to screen liquids and gels
Saturday, May 24th 2014 - 09:59 UTC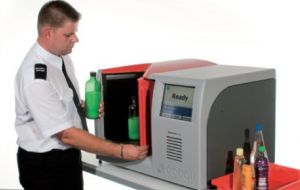 Taking baby foods through airport security is a major headache for parents travelling with young children. But now there's a potential solution: the Insight100 scanner which can analyze liquids within five seconds, without the need to open containers.

The scanner is on trial in 65 European airports and its developers believe it could help end the eight-year global travel restrictions on liquids.

Designed by Cobalt Light Systems, The Insight100 uses an improved version of conventional Raman Spectroscopy laser detection, says security vice president Ken Mann.

The device screens liquids, aerosols, and gels and can be used alone or in conjunction with x-ray machines. In initial trials false detection rates were 0.5%.

Hand luggage restrictions on liquids were introduced globally in 2006 after plots to detonate liquid explosives on board international airliners were uncovered. Pending European regulations envisage that emerging technologies will allow airports to end the ban by 2016.