Former Argentine minister blasts Cobos for Falklands trip; passport controversy
Wednesday, July 2nd 2014 - 07:04 UTC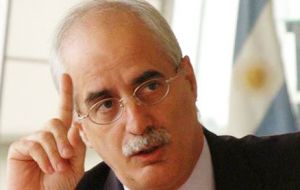 Argentina's former foreign minister Jorge Taiana described lawmaker and presidential hopeful Julio Cleto Cobos current visit to the Falkland Islands totally "irresponsible" and 'without consultation'. He also blasted the fact that the lawmaker would have his Argentine passport stamped by the government of the Falkland Islands.

"Going to the Islands without any mission and spending a week there is an unfortunate political decision and a proof that (Julio) Cobos does not understand the significance of the Malvinas question; it is also a disrespect to (Argentina's) institutions," Taiana told a radio show on Tuesday.

According to the former official and current legislator, he "never went and will never go" to the Falklands because Argentine passports must be stamped once arriving in the Islands, a measure that was decided by the British administration of the Malvinas after the 1982 South Atlantic war with the UK, triggered by the military invasion of the Islands.

"That is one of the reasons why I have never gone nor will I go to Malvinas, even though I occupy no official post (now); the fact of having represented the country, makes me to not want to be put down to administrative control actions by the British in Malvinas," Taiana said.

'He added that the controversial trip by Cobos, who is an ex-Vice-President, having served in the first administration of President Cristina Kirchner, could be considered only in the margins of an action carried out by Argentine authorities.

"Being a matter that involves such an important sovereignty conflict, we should all act following the framework established by authorities" concluded Taiana.

However it must be pointed out that Cobos has repeated he travelled to the Falklands as a simple Argentine citizen, with all the bills paid from his pocket. This can be interpreted that he did not request for per diems to fly overseas, as he is entitled, and likewise that he did not make use of his Argentine official passport (with equivalent diplomatic status), common to South American elected members of the Legislative.