US dollar reaches new record in Argentina; the 'Dolar Demichelis' forecasted
Wednesday, September 17th 2014 - 05:20 UTC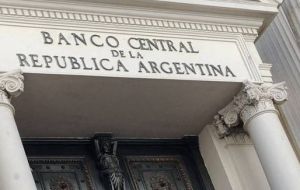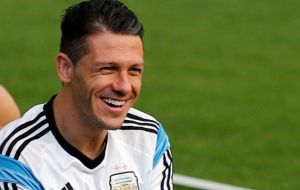 The US dollar in the informal market reached a new record high against the Argentine Peso at the end of trading on Tuesday. Earlier in the day the Central bank reported the biggest one-day drop in its international reserves since July 30.

The greenback climbed 25 cents to close at 14.72 Argentine Pesos, while the stock exchange rate also hit a historic peak jumping 31 cents to close at 13.68 Pesos.

The Peso's rout came after the central bank said its stockpile of foreign currencies and gold fell by 184 million on Monday to a four-and-a-half-month low of 28.2 billion dollars.

The decline in reserves raised fears that President Cristina Fernandez ´s government might run out of the dollars it needs to pay creditors and the country's import bill. That would pile more pain on an economy that is already expected to contract in the range of 2% (government admits 0.5%) inflation of 37.4% this year, according to private analysts.

Meanwhile the official exchange rate closed unchanged at 8.4030 per dollar on the tightly regulated official market.

The Peso has weakened about 2.5% on the official currency market since the 30 July selective default, compared with its 16% slide on the black market. The gap between the two markets climbed to 75%.

With the peso fast approaching 15 per dollar, Buenos Aires traders are talking about the 'Dólar Demichelis', named after Argentine soccer player Martin Demichelis's jersey number. Argentines already joke that their currency has gone this year from the 'Dólar Messi' to the 'Dólar Mascherano', a reference to the number 10 worn by superstar Leonel Messi to the number 14 worn by the midfielder Javier Mascherano.

Argentine cabinet chief, Jorge Capitanich, attributed Monday´s drop in reserves to fuel and debt payments.

International credit markets remain firmly shut to Argentina owing to the default, which stems from a legal fight between Buenos Aires and holdout creditors suing to collect on bonds Argentina stopped paying in 2001.

Unable to borrow and with no immediate solution to default on the horizon, the Kirchner administration has moved to limit dollar sales to the public.

Earlier in September, the central bank ordered banks to file a report anytime a company tries to buy more than 150,000 in dollars from the previous threshold of 300,000. The government also raised the minimum income requirement to 8,800 pesos (1,050) from 7,200 pesos for taxpayers seeking authorization to buy up to 2,000 dollars a month.

The government has sold almost 1.6 billion to taxpayers since it launched the program in January in an ultimately successful strategy to take pressure off the peso in the black market. However, dollar sales in the first half of September are already comparable to the 260 million sold during August.