Argentina denies any devaluation to compensate for the plunge of Brazil's Real
Friday, March 6th 2015 - 07:22 UTC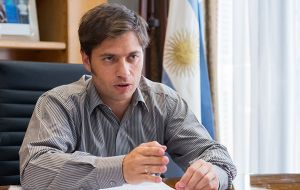 Despite Brazil's 'violent devaluation' of its currency, Argentina will not pursue the same path because the country needs "to give certainty" and "avoid instability" said Economy minister Axel Kicillof. This week the Real plunged to its lowest level in over a decade burdened by economic and political uncertainty

"They say that Brazil devalued (its currency) by 25% since July and Argentina only by 6% since that month, but they do not take into account that we had a slip of more than 20% in January (2014) so we are actually in a 30%," Kicillof told reporters on Thursday.

Facing a "Brazil that devalues violently", Argentina must "avoid instability" and "give certainty," the minister assured questioning opposition leaders and private-sector analysts who have been demanding the federal government to take into account the Brazilian Congress reaction to austerity measures.

This week, Brazilian lawmakers threw out a presidential decree that would have raised taxes and cut expenses, reducing the country's enormous deficit and inflationary pressure.

"Many are asking for devaluation. Many candidates talk about a sharp devaluation in December," Kicillof pointed out saying president Cristina Fernández was a "responsible" leader and will not make such a move.

"If there is no devaluation, they say there is an exchange rate lag; but if there is a devaluation, it is wrong to devalue," he insisted.

Kicillof also denied plans to be part of an electoral formula ahead of the PASO primaries and general elections in August and October respectively this year.

Brazil and China are Argentina's main trade partners, but the neighboring country is more essential for Argentine manufactured goods traded in the framework of Mercosur.