Castro praises Francis and promises "to turn to the Church again if the pope continues on this vein"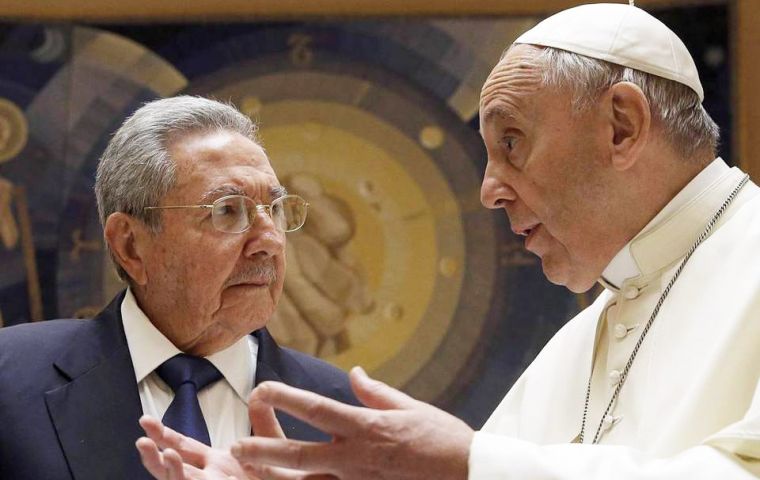 Cuban President Raul Castro has praised Pope Francis for brokering the restoration of relations between Cuba and the US, announced in December. At the end of a Sunday audience at the Vatican, Castro said he had thanked the Pope for his contribution for the historic rapprochement.

Secret negotiations to put an end to more than five decades of hostilities were carried out inside the Vatican. The Pope will visit Cuba on his way to the US in September.

"I am very happy. I have come here to thank him for what he has done to begin solving the problems of the United States and Cuba," said Raul Castro.

The communist leader had stopped at the Vatican after attending Russia's World War Two Victory Day in Moscow.

After the audience with the Pope, Castro said he was so impressed by a Vatican audience with Pope Francis that he might return to the faith he was born into.

Raul Castro praised the pontiff's wisdom, adding: "I will resume praying and turn to the Church again if the Pope continues in this vein."

The Catholic Church has maintained ties with Havana since the 1959 revolution.

For Pope Francis, the restoration of relations between the US and Cuba has been a major diplomatic achievement. The US had imposed a trade embargo after Cuba's revolution, which it began to lift late last year.

After the 50-minute private audience on Sunday, Castro told reporters: "The pontiff is a Jesuit, and I, in some way, am too. I studied at Jesuit schools."

After suggesting he might turn again to the Church, he added: "I mean what I say."

Both Mr Castro and his brother, revolutionary leader Fidel Castro, were baptized as Roman Catholics, but most Church activities were suppressed after the revolution.

Francis will be the third Pope to travel to Cuba, following visits there by John Paul II in 1998 and Benedict XVI in 2012.