Battle of coins re-edits the Battle of Waterloo 200 years later
Thursday, June 11th 2015 - 01:11 UTC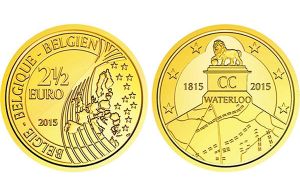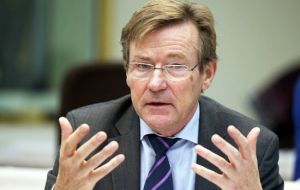 Belgium finally has managed to circumvent French resistance to the introduction of Euro coins to commemorate the 200th anniversary of Napoleon's defeat in Waterloo (18th June 1815). It has done so by invoking a little-known European Union rule that allows countries to issue Euro coins of their choice, provided they are in an irregular denomination.

That led to the unveiling of a €2.50 coin — a first in Belgium — and 70,000 of them have now been minted. The coins, which can only be spent inside Belgium, display a monument of a lion atop a cone-shaped hill on the site of France's humiliation, as well as lines indicating where troops were positioned when forces led by Britain and Prussia defeated Napoleon in the countryside near Brussels.

Johan Van Overtveldt, the Belgian finance minister, insisted that the new coins were not meant to provoke French anger.

"The goal is not to revive old quarrels in a modern Europe — and there are more important things to sort out," he was quoted. "But there's been no battle in recent history as important as Waterloo, or indeed one that captures the imagination in the same way."

There is no doubt that the European Union has bigger struggles to wage at the moment. But in its small way, the skirmish has signaled the challenges facing European integration, and the limits of Europe's open borders at overcoming old nationalist impulses.

Tensions among the 19 countries that use the Euro have mounted as Greece teeters perilously close to defaulting on its debt.

Yet history has its own currency in Europe, which even a common currency has yet to overcome. Back in March, officials in Paris wrote a letter to the European authorities insisting that the Battle of Waterloo, which took place on June 18, 1815, and altered the shape of European history, had a deep and damaging resonance in the collective French consciousness.

France protested Belgium's plans for its original coin by saying that basking in France's defeat threatened to undermine European unity, troubled enough already. The issue of a €2 commemorative coin, it said, could spur an "unfavorable reaction in France." In Belgium, the victory embodied in the €2.50 coin is being lauded as if the tiny country had itself triumphed on the battlefield.

Last March Belgium had to retreat on the €2 coin scrapping 180,000 coins they had already minted.

However the dispute has caused debate in France. An article on the website of Bfmtv, the French broadcaster, noted that 200 years later, the defeat of Napoleon was "still hard to swallow."

The article asked whether France was a "poor loser," even as it stressed that the €2.50 coin would not be legal tender outside of Belgium, where it is to be sold in plastic bags at a cost of €6.