Cristina Fernandez campaigning hard to ensure the Kirchnerite legacy and 'Argentine independence'
Friday, July 10th 2015 - 06:38 UTC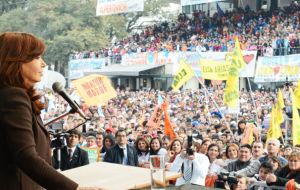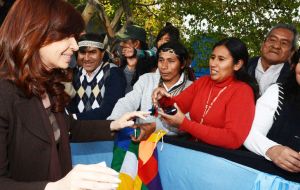 Argentine President Cristina Fernández clearly on the campaign trail ahead of October's national elections, has warned economic and political opposition groups could attempt to force the country reintroduce "neoliberal policies," dismantling the "inclusive state" built in the last twelve years. And beware because "now we can say that we are really an independent country".

"There have always been, and there will always be, attempts to reduce the state. Some will try to go back to neoliberal policies," said Cristina Fernandez during a televised speech celebrating the 199 anniversary of Argentina's independence (9 July 1816), in the Northwestern province of Tucuman.

Making a summary of the Kirchnerite years, Cristina remembered late President and husband Nestor Kirchner while praising Argentina's re-industrialization process, debt reduction policies and calling to protect what has been achieved in matters of social inclusion and democratization.

"We have never been this integrated to the world. Our national gross product has never grown so much…," the head of state listed, adding global central powers are facing a difficult economic crisis and are dragging developing economies with them.

"We need to summon everyone who thinks our homeland is above everything to protect our achievements in this difficult world," she said.

The President then argued the Kirchnerite project has honored those who fought for the country and regained financial independence.

"We can now talk seriously about being independent. But it is impossible for everything to be perfect in just 12 years. We have done a lot, but we have a lot more to do," she added.

"What matters is not what media thinks but what history will think. And history is the memory and affection of the humble, of the people, of the ones that continue to remember Peron, Belgrano… that's what we aim at, to be remembered in that way," she concluded.

Next October Argentina is holding national elections which include voting for president, renewing half the Lower House and a third of Senate benches, plus other provincial posts. Since Cristina Fernandez will have completed two consecutive mandates in December, and can't go for an immediate third, has been campaigning strongly to ensure the legacy of her government and policies remain.

No wonder then that the head of state in Tucuman was accompanied by presidential and vice presidential hopefuls for the ruling Victory Front (FpV), Daniel Scioli and Carlos Zannini.