Levy confident congress will finally approve austerity measures to help Brazil's economy
Monday, October 12th 2015 - 06:14 UTC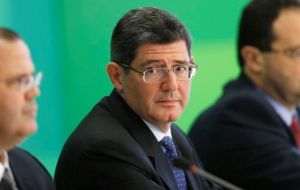 The president Dilma Rousseff administration is geared to "preparing the country to deal with a new international reality", Brazilian Finance Minister Joaquim Levy told Reuters in an interview on Saturday.
"I have no plans of leaving the government. We still have a long agenda to fulfill that includes structural reforms and preparing the country to deal with a new international reality" said Levy in the sidelines of the World Bank and IMF annual meetings taking place in Lima.
Levy said he was confident Brazilian politicians will reach a consensus soon, paving the way for Congress to adopt fiscal adjustment measures that would aid the beleaguered Brazilian economy. Congress has delayed voting on whether to overturn President Rousseff's veto on spending bills.
"I think that ultimately the political problem we see now will be solved; there's not many options outside of that. People will not allow us to get on the road that would imply more inflation or disorganization," said Levy.
Brazil's economy is forecast by the IMF and private analysts to contract 3% this year.
The government is "reducing expenditures, because people are not that tolerant of taxes, but then you have to do whatever it takes to get to a 0.7% of GDP primary budget surplus, Levy said, referring to the government's 2016 target.
"We have to do that as soon as possible, because the longer it takes, the higher the toll for the economy."