Brazil's current account deficit drops to 3.32% of GDP, lowest since 2010
Wednesday, January 27th 2016 - 08:28 UTC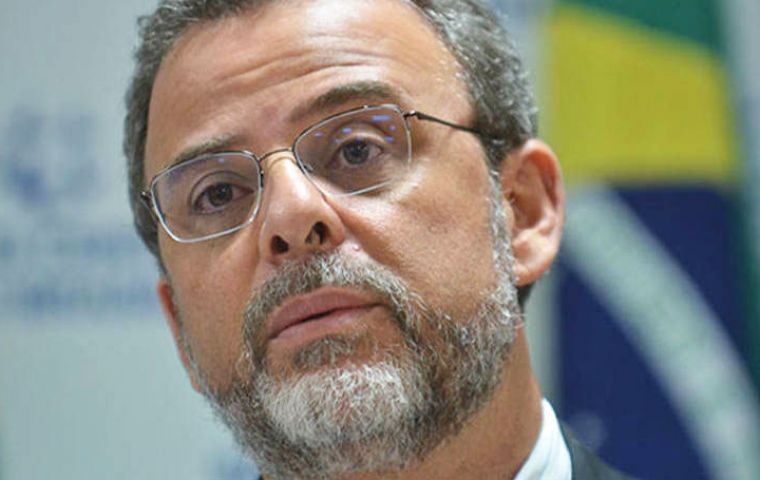 The soaring US dollar and Brazil's slumping economy led to a weaker demand for imported goods and services in 2015. As a result, Brazil's current account deficit reached USD 58.942 billion, equivalent to 3.32% of GDP. The result is the smallest amount since 2010. In 2014, the current account deficit reached USD 104.181 billion, or 4.31% of GDP.

"Reduced economic activity in 2015 detracted from demand for foreign goods and services. [The narrower current account deficit] is a positive, favorable result amid a scenario of instability and uncertainty both globally and domestically," said the Central Bank's Economic Department chief Tulio Maciel.

According to Maciel, the dollar, which soared roughly 50% in 2015 from 2014, also had an impact on the current account. "This drives up the cost of foreign goods and services," he said. On the other hand, the higher dollar encourages exports and is conducive to a better trade balance result.

The stronger dollar caused overseas spending by Brazilians to drop 32.1% in 2015 from the year before. Foreign travel spending stood at USD 17.357 billion, the Central Bank reported. It is the smallest sum since 2010, when spending peaked at 15.965 billion.

Foreigners spent USD 5.844 billion in trips to Brazil last year, down 14.6% from 2014. International travel spending outweighed receipts by USD 11.513 billion, down 38.5% from USD 18.724 in 2014.

Maciel stressed that this was the first time the international travel spending deficit shrank year-on-year since numbers were first made available, in early 2010. He said he hopes to see it decline anew this year, though not at the same rate as in 2015. "We already saw a major adjustment in 2015," he said.

Apart from the higher dollar, Maciel mentioned the fact that "Brazilians' incomes grew less" as a reason for the reduced spending abroad.

Regarding the current account balance, the primary income account (profits and dividends, interest payments and salaries) saw the highest deficit last year, at USD 42.357 billion. The services account (international travel, transportation, rental of equipment, insurance etc.) added to the result with a USD 36.978 deficit.

The balance of trade helped cushion the current account deficit. Last year, Brazil posted a USD 17.670 billion trade surplus (exports exceeding imports).

In 2015, foreign direct investment in Brazil amounted to USD 75.075 billion and was more than enough to make up for the current account deficit. Last year's result exceeded the Central Bank's USD 66 billion forecast.