Brazil's 'corrupt' government hurting business and agriculture, says Agco CEO
Friday, February 5th 2016 - 07:46 UTC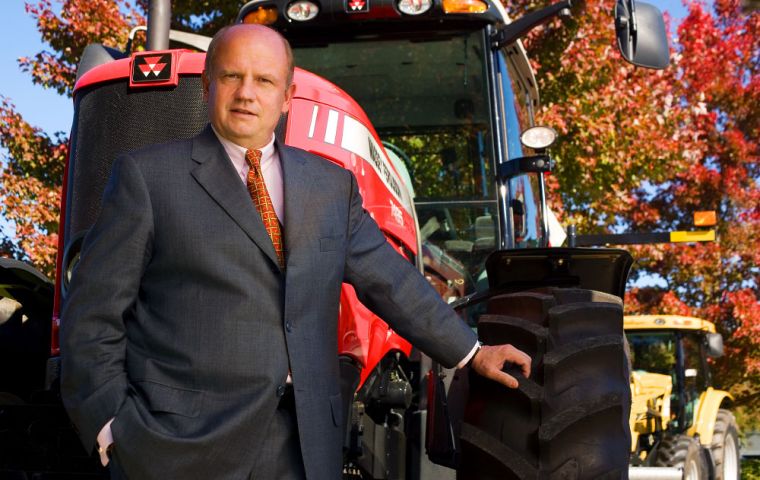 Brazil's "corrupt" government is hurting the country's business sector, including in agriculture, the head of one of the world's biggest tractor-makers said. Martin Richenhagen, chairman and CEO of Agco, manufacturer of Fendt, Massey Ferguson and Valtra machinery, claimed he tried, and failed, to persuade Brazil's government to speed up the payment of agriculture support programs used by farmers for funding equipment purchases.

"We tried to lobby. Politicians right now don't listen," Richenhagen told investors.

Agco was "not satisfied… at all" with the payment performance of the government, which last June unveiled a $60bn harvest plan for 2015-16 offering a cocktail of support packages, including low interest loans.

He added that "the government in Brazil is in very bad shape. They don't know what they are doing. They don't have a strategy. They are corrupt, and this is damaging not only our business, but business in general."

The comments by Mr Richenhagen – a multi-linguist, who is a graduate of Paris's Sorbonne as well as the University of Bonn, and chef d'equipe of the German dressage team which won a gold medal at the 2008 Beijing Olympics – followed Agco's release of results which sent its shares tumbling.

While a fall in profits for the October-to-December quarter was in line with market expectations, it disappointed investors with guidance of earnings per share of $2.30 for this year, and a forecast that "difficult global industry conditions [will] persist through 2016".

The profits tumble in the latest quarter was led by a sharp deterioration in the South American market, where industry tractor sales volumes in Brazil tumbled by 40%.

"Industry retail sales in South America were extremely weak, resulting from political uncertainty, or you could call it catastrophe, and a depressed general economy in Brazil," Mr. Richenhagen said, also flagging "disruption" in processing loans to farmers.

The group forecast a decline of 10-15% in South America's agricultural machinery market this year.

"Political instability, economic weakness, and uncertainty on the funding levels of the government-subsidized financing programs in Brazil are expected to contribute to the weaker South American industry demand forecast in 2016," Andy Beck, the Agco chief financial officer, said.