Chileans that damaged a Malvinas monument in Rosario were finally set free
Wednesday, February 24th 2016 - 06:33 UTC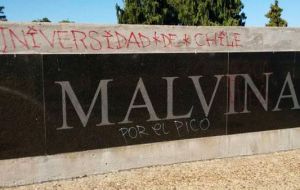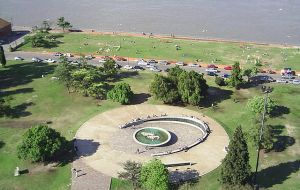 The two young Chileans that remained in custody following the graffiti and damages to the Monument to the Malvinas fallen in the National Flag park of the city of Rosario, Argentina were finally set free by Federal Judge Carlos Vera Barros who decided a "lack of merit" in the charges.

The ruling followed on the Judge's summoning of two women who witnessed the incidents but the addresses they reported, in the city of Pergamino, proved to be false so their testimonies went missing.

The prosecution also alleged that it had video evidence from cameras at the National Flag monument square, but finally proved to be nonexistent. Given the two circumstances and lack of evidence, Judge Vera Barros said that the two Chilean citizens were free to return to their country.

Last February first, 46 followers of the football team Universidad de Chile were detained for scribbling and graffiti at the Malvinas monument at the National Flag monument square next to the Parana river, an emblematic attraction of the port city Rosario, one of the world's main exporters of grains and oilseeds.

The group was heading by bus to Montevideo, since their team was set to play Uruguay's River Plate as part of the Libertadores Cup qualifier.

Of the 46 arrested only two had to stay behind (almost three weeks) waiting for a court ruling, charged with 'qualified damage' a federal crime since it was committed against an Argentine national monument.

According to the original police report the attack by the Chilean football fans was mainly against the Malvinas monument, although other areas of the square also suffered damages.