Tory infighting forces Boris Johnson to step down from leadership contest
Friday, July 1st 2016 - 10:15 UTC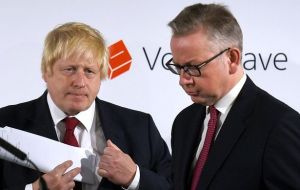 Former London mayor Boris Johnson abruptly pulled out of the race to become Britain's prime minister that he was once favored to win, upending the contest less than a week after he led a campaign to take the country out of the EU.

Johnson's announcement, to audible gasps from a roomful of journalists and supporters on Thursday, was the biggest political surprise since Prime Minister David Cameron quit after losing last week's referendum on British membership of the bloc.

Johnson, whose backing for the Leave cause was seen as essential to its victory, saw his leadership bid suddenly crumble after his Brexit campaign ally, Justice Secretary Michael Gove, withdrew support and announced a bid of his own.

"I must tell you, my friends, you who have waited faithfully for the punch line of this speech, that having consulted colleagues and in view of the circumstances in parliament, I have concluded that person cannot be me," Johnson said at the close of his speech at a London luxury hotel.

Supporters, gathered for what they thought would be the first speech of his leadership campaign, were stunned. Johnson began by hailing a "moment for hope and ambition for Britain, a time not to fight against the tide of history but to take that tide at the flood and sail on to fortune".

But by the time he spoke his bid had already been undermined by Gove, a close friend of Cameron's despite differences with the prime minister over Europe, who had previously said he would back Johnson.

In an article on Thursday in the Spectator, a magazine Johnson used to edit, Gove wrote that he had come "reluctantly, to the conclusion that Boris cannot provide the leadership or build the team for the task ahead".

Conservative MPs said Johnson may have been undone by supporters of Cameron exacting revenge for his decision to defy the prime minister and back the Leave campaign.

"He who lives by the sword, dies by the sword," said one lawmaker, describing internal party conflict on condition of anonymity. The lawmaker said Johnson had realized his bid would fail after MPs defected from his campaign overnight.

Johnson is the latest political casualty of a civil war in the ruling party unleashed by Cameron's decision to hold the referendum on membership in the EU, an issue that divided the Conservatives for decades and now divides the UK.

Known for a jokey public persona and mop of unkempt blonde hair, Johnson became a popular national figure during eight years as London mayor, and used his charm to aid the Leave cause after deciding only late in the day to push for Brexit. But in the week since his side won, several leading Conservatives questioned whether Johnson had the gravitas to run tough talks to mend the broken relationship with the EU.