Brazil's Lower House approves by ample margin amendment to freeze spending
Wednesday, October 12th 2016 - 11:53 UTC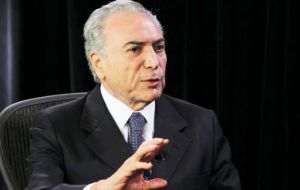 Brazil's Lower House of Congress approved on Monday a document which is the base for a Proposed Constitutional Amendment (PEC) that would freeze federal spending for the next 20 years, a legislative priority for Michel Temer's government in 2016.

The result - 366 votes in favor, 111 against, and 2 abstentions - was obtained with the personal efforts of the President himself, which included a dinner for more than 200 congressmen on Sunday night (the 9th).

Temer even dismissed three government ministers - Fernando Coelho (Mining & Energy), Bruno Araújo (Cities) and Marx Beltrão (Tourism) - so they could retake their positions as Federal Congressman to vote for approval of the measure.

The document still has to pass through a second vote, which will probably take place in the last week of October. After this, it will go on to the Senate for analysis.

The proposal approved restricts increases in government spending to the IPCA (National Full Consumer Price Index) for the previous 12 months.

The final text provided for more latitude for health and education. In these two areas, the floor for spending will only go into effect starting in 2018, or in other words, the base used in the calculation of what can be spent will be 2017, when government incomes are expected to be higher than in 2016.

In addition, the report establishes that the base for calculation of the floor for healthcare expenditures in 2017 will be 15% of net government incomes, and not the 13,7% that was stipulated in the original text.

This change results in a floor of around R$ 113,7 billion (US$ 35 billion) for the areas next year, or, R$ 10 billion (US$ 3,08 billion) more than had originally been forecast.