Maduro seizes 4 million toys and promises Father 'Nicolas' Christmas will visit all Venezuelan children
Wednesday, December 14th 2016 - 21:47 UTC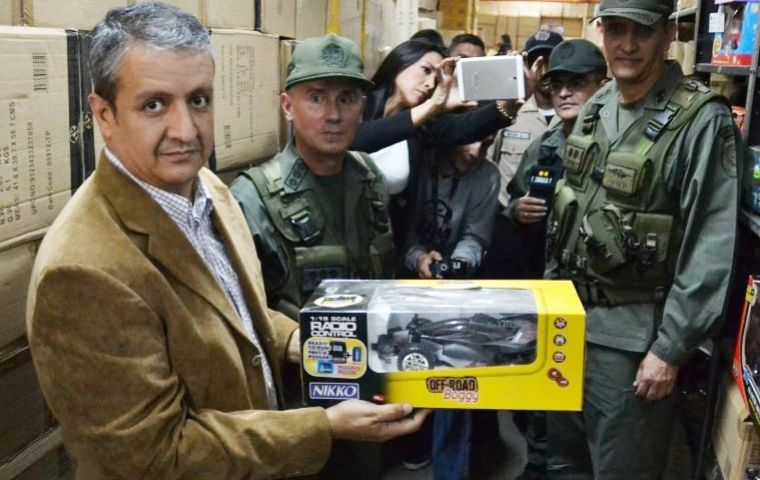 Venezuela president Nicolas Maduro government has seized four million toys on the grounds that their owners were hoarding castles and kiddie cars ahead of Christmas. Now the "Santa Nicolas" government will be giving the toys supposedly to the poor children of the country.

"This is a criminal act because it's a violation of the rights of children," said William Contreras, the head of Venezuela's consumer protection commission, on the president's television show this week. He added that the government would correct the misdeed by handing the toys to pro-government committees "so girls and boys in Venezuela have their toys guaranteed."

Contreras charged that Kreisel, a long established Venezuelan toy distributor, planned to raise the prices by 24,000%, part of a scheme in which the government said the company was underreporting inventory to sell its merchandise at higher prices. Two Kreisel executives have been arrested, the authorities said.

It was the latest example of President Nicolás Maduro's government fighting what it calls an "economic war" that it a claim is being waged by business owners.

While many economists argue that the country's economic miseries, including triple-digit inflation and chronic scarcities of the most basic goods, stem from economic mismanagement and low oil prices, the government and its left-leaning economic planners point to business people who they say unfairly raise prices and hoard basic goods in an attempt to destabilize the country.

The raid on the Kreisel warehouses occurred over the weekend, after the government ordered sellers of toys to reduce their prices by 30 to 50 percent. On Saturday, the consumer protection agency made public a photograph of Contreras in a Kreisel warehouse filled with boxes and flanked by armed soldiers.

"Our boys and girls are sacred, we will not let them be robbed of Christmas," the consumer protection agency said on Twitter.

The government's actions are unlikely to change the ability of Venezuelans to buy much before Christmas. The bolivar is in free fall, having lost half of its value against the dollar in November alone, and for most families getting food has become the priority.