Macri to undergo microsurgery in vocal chords
Tuesday, December 20th 2016 - 09:01 UTC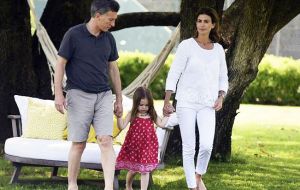 Argentine president Mauricio Macri must undergo laser microsurgery in his vocal chords to recover from a standing dysphonia originated in the "intensive and/or abusive use of his voice"

According to a brief Monday release from the Presidency, the day and time of the surgery "will be decided very soon, in accordance with agenda possibilities"

Following surgery "the Head of State will leave the clinic on his own with the only indication that he needs a "relative rest of voice"

Although it is a minor and brief surgery Macri will have to be away, in recovery, from his normal activities for a week and a half when he plans to spend time at his farm in the south of the country.

According to Argentine media it was evident that for over a week President Macri was suffering from dysphonia. However he attributed it to the Argentine football derby, which the club he once managed, Boca Juniors won on two consecutive games.

Macri six months ago underwent surgery for a minor problem in a knee.