PM May admits "hard Brexit": leaving EU does not mean retaining bits of membership
Monday, January 9th 2017 - 09:12 UTC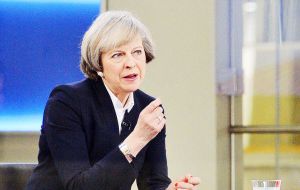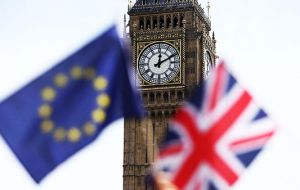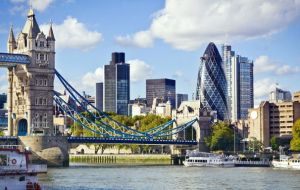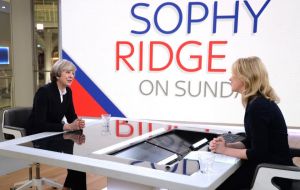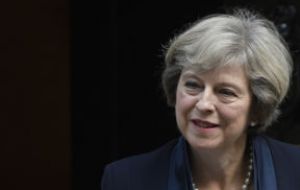 British Prime Minister Theresa May seemingly reiterated her desire for a "hard Brexit" during an interview on Sky News on Sunday. She said that Britain is focusing on immigration control and that leaving the EU doesn't mean retaining bits of membership.

While speaking in her first interview of 2017, May repeatedly drove home the importance of finding a deal that works for both the UK and the EU, while skirting around the issue of a "hard Brexit."

A "hard Brexit" is the UK leaving the European Union without unfettered access to the single market, in exchange for full control over immigration. It is seen as a potential death blow to the City of London, and therefore the wider economy, as it would mean companies would lose financial pass-porting rights.

A number of EU officials have stipulated over the last 9 months that if Britain was to want full control over immigration and opt out of the Freedom of Movement — allowing all EU citizens to freely move to other EU countries — then it would be pushed out of the Single Market. This would therefore trigger a "hard Brexit."

Journalist Sophy Ridge told May: "Everything you are saying seems to suggest we are leaving the single market. Why don't you just admit it?"

May replied, saying she "wants the best possible deal for trading with and operating within the single European market," but also said that leaving the EU doesn't mean retaining bits of membership and that she will be looking at alternative trade deals.

"People often talk... as if somehow we're leaving the EU but we want to keep bits of membership of the EU. We're leaving. We're coming out. We're not going to be a member of the EU any longer."

"So the question is what is the right relationship for the UK to have with the European Union when we're outside."

She added that, "What I am saying is that I think it is wrong to look at this as just a binary issue, as to either you have control of immigration or you have a good trade deal – I don't see it as a binary issue." Ms. May has said that she will outline more details of her Brexit strategy in a speech later this month.

If the London's financial passport is taken away, then the capital could cease to be the most important financial centre in Europe, costing the UK thousands of jobs and billions in revenues. Around 5,500 firms registered in the UK rely on the EU's pass-porting rights for the financial services sector, and they turn over about £9 billion in revenue.

PM May Brexit plans have been under fire and she only has a few weeks left to figure out how Britain will leave the European Union. In effect Britain's outgoing ambassador to the European Union, Sir Ivan Rogers resigned his post last week and issued a scathing attack on the government for its "muddled thinking" and "ill-founded arguments" on Brexit.

Ms. May has insisted for months that she intends to trigger the EU exit mechanism, known as Article 50 of the Lisbon Treaty, before the end of March and that a deal with Europe will be in place within two years. There has been growing concern that the timetable is far too short and there have been calls for Britain to keep access to the single market, even if that means giving up some control over immigration.