Trump's son in law in White House "key leadership role"; the property developer is described as "a tremendous asset"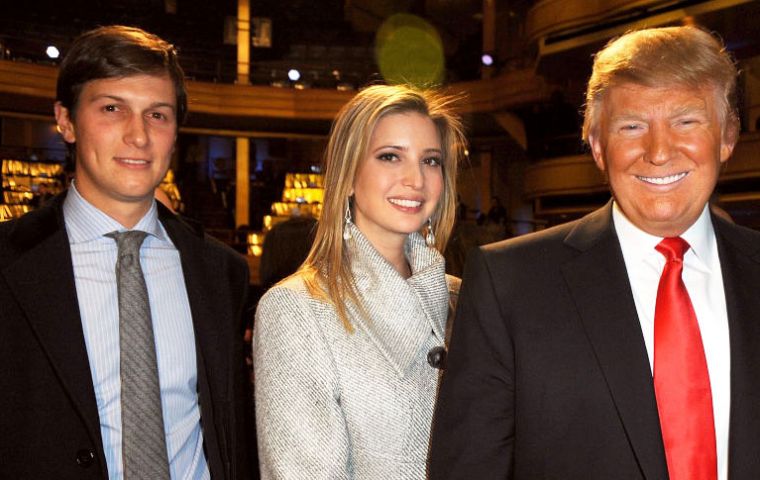 President-elect Donald Trump has named his son-in-law, Jared Kushner, as one of his senior White House advisers. The 35-year-old played a key role in the presidential campaign and his new White House job will cover both domestic and foreign policy. Mr. Kushner, who is married to Ivanka Trump, is a property developer with a wide range of business interests.
Democrats immediately called for a review of the appointment, citing nepotism laws and potential conflicts. Members of the House Judiciary Committee urged the Department of Justice and the Office of Government Ethics to step in.
Earlier, Mr. Trump hailed his son-in-law as a "tremendous asset" and he was proud to give him a "key leadership role" in the administration.
Members of Mr. Trump's team have argued that a law barring officials from giving government jobs to relatives does not apply to White House positions. There are also federal ethics laws that mean government employees cannot profit from any businesses.
Mr. Kushner's lawyer has said he would step down as boss of his family's real estate business if he took a White House job, and extricate himself from some of his assets.
Jamie Gorelick of law firm WilmerHale said Mr. Kushner was committed to complying with federal ethics laws and had consulted with the Office of Government Ethics about what steps to take.
Mr. Kushner was often seen by his father-in-law's side during the presidential campaign and was heavily involved in its digital strategy. He was said to have played a role in the ousting of New Jersey Governor Chris Christie from the transition team during the campaign.
While US attorney for New Jersey, Mr. Christie prosecuted Mr. Kushner's father for tax evasion and witness tampering, and he served a jail sentence. Mr. Kushner has also been present at Cabinet interviews and in key meetings with foreign leaders.
He owns 666 Fifth Avenue, a skyscraper a few blocks down from Trump Tower, and aged 25, he bought the New York Observer newspaper.
Usually camera-shy and happy to operate behind the scenes, Mr Kushner is a vastly wealthy property developer and publisher who served on Mr Trump's transition team and is said to have the president-elect's ear.
An Orthodox Jew whose grandparents were Holocaust survivors, Mr Kushner used an editorial in the Observer to defend Mr Trump from accusations of anti-semitism when the candidate tweeted a composite picture of Hillary Clinton, a six-pointed star said by critics to evoke a Star of David, a pile of cash, and the words: "Most corrupt candidate ever."
"People see in him what they want to see," he wrote, "if they dislike his politics, they might see other things they dislike, such as racism."
If they like his politics, they might imagine they're hearing 'dog whistles'. He will touch subjects politicians try to avoid. This is part of why he appeals to so many."
Jared Kushner was born and raised in comfort in Livingston, New Jersey, alongside two sisters and a brother. His grandparents had escaped Poland during the war, arriving in the US in 1949, and his father Charles made his fortune as a New Jersey property mogul.
The young Jared won a place at Harvard despite poor grades, according to Daniel Golden, author of The Price of Admissions: How America's Ruling Class Buys Its Way into Elite Colleges.
The year of his admission, according to Mr Golden's book, Charles Kushner donated US$2.5 million to the university, along with similar one-off donations to Cornell and Princeton.
Mr. Trump's father Fred, also a property mogul, Kushner senior was a controversial figure. He was jailed for tax evasion, illegal campaign contributions and witness tampering. He admitted setting up his own brother-in-law with a prostitute, secretly filming the liaison, and sending the tape to his sister in an effort to dissuade them from testifying against him.
The man who prosecuted Kushner senior was the former US Attorney for New Jersey and 2016 Republican presidential candidate Chris Christie.
Jared Kushner is reported to have been involved in counseling his father-in-law to choose Mike Pence as his running mate, over Mr Christie.
Both Mr. Kushner and Mr. Trump inherited vast property empires from their fathers at a relatively young age, and their apparent bond may be based in part at least on similar experiences.