Falklands attending Trinidad and Tobago annual energy conference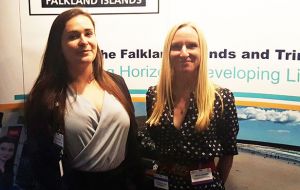 The Falkland Islands government is attending the Annual Trinidad and Tobago Energy Conference from January 23rd – 25th, 2017 at the Hyatt Regency, Port-of-Spain. The Trinidad and Tobago Energy Conference is the premier Energy Conference in the Caribbean and promotes vigorous debate and discussion among leaders of industry, Government and academia.

Delegates from the US, the United Kingdom, Barbados, Guyana, Suriname, Venezuela, China and the Falklands Island and the Dominican Republic, are participants. The conference attracts senior decision makers in the industry including the CEOs, supply chain, finance, and operations managers of the major upstream, midstream, and downstream operator companies in Trinidad and Tobago.

The Falkland Islands delegation is headed by MLA Ian Hansen and has displayed a stand at the conference's pavilion with over a hundred booths.

The first speeches at the conference indicated that the energy sector will continue to fuel Trinidad and Tobago's growth and prosperity over the next few decades and mapping out a way to ensure sustained development amidst an ever changing global environment is pivotal.

However the sector is at a crucial juncture where it must evolve in order to continue being competitive. The warning signs are clear. The "shale gale" in the United States, shifting gas markets, the expansion of the Panama Canal, innovations in deepwater technology and new hydrocarbon discoveries in emerging markets, suggest that T&T must remain vigilant. While the country has punched above its weight in developing a world class gas and petrochemical industry, the challenge is to chart the next wave of energy sector development.