Red Cross completes Phase 1 of mission to identify Argentine soldiers in Darwin cemetery
Thursday, February 16th 2017 - 10:13 UTC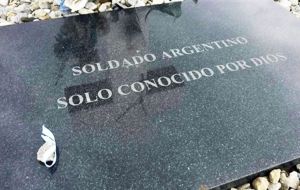 Laurent Corbaz of the International Committee of the Red Cross (ICRC), said on leaving the Falklands that Phase 1 of the mission to identify Argentine soldiers buried at the Darwin Cemetery had taken place during the week spent in the Islands with his team mate Patrick Sherry.

The purpose of Phase 1 was to make the administrative and logistical arrangements for Phases 2 and 3, later in the year.

Phase 2 will entail taking samples of the 123 unidentified soldiers while Phase 3 will involve sending the samples to a laboratory for analysis and matching with families' DNA samples.

It is expected all the analysis and the final reports will be completed by the end of 2017. Mr. Corbaz said no discussions had taken place about any future courses of action.

Chair of the Legislative Assembly, Dr Barry Elsby MLA anticipating the visit said: "we appreciate the ICRC taking the time to prepare for the DNA analysis work later in the year. This is a further opportunity for the ICRC to plan for the challenges they will face in the Falklands winter."

He added: "Members are supportive of this humanitarian approach to identifying the unknown soldiers. We hope that all soldiers are identified and the families are able to think of their future."

The DNA identification of Argentine combatants remains in Darwin was agreed and included in the September Argentina/UK joint statement as part of a major effort to improve bilateral relations. Negotiations on the task have been ongoing with decisive participation of Falklands representatives as part of the British delegation (PN).