Brazil's worst-ever recession continued during 2016, GDP drops 3.6%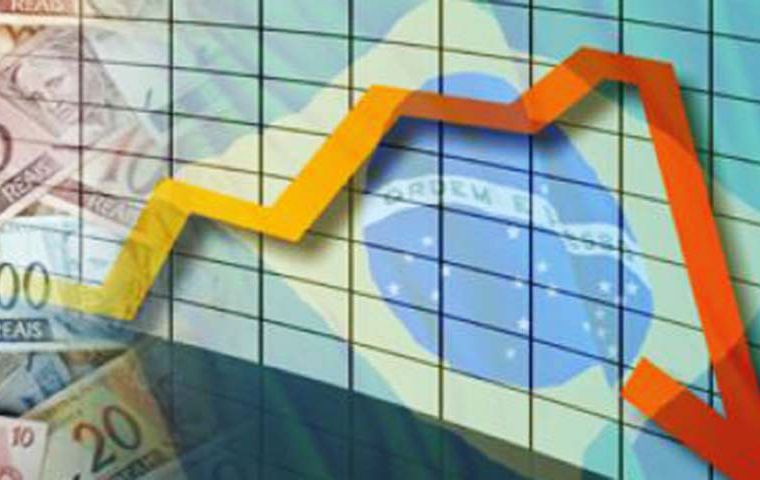 Brazil's economic woes continue as the country's worst-ever recession unexpectedly deepened at the end of last year. Gross domestic product contracted by 0.9% between October and December. For all of 2016 it dropped by 3.6%; almost as bad as in 2015 with a 3.8% slump. It was the eighth straight quarter of contraction.
Against a background of political turmoil and corruption scandals, the two-year downturn is now the longest and deepest on record for Latin America's biggest country, according to the country's stats agency IBGE.
The economic contraction worsened in the fourth quarter, with a steeper-than-expected decline of 0.9 percent, following a 0.7 percent drop in the previous three months.
Investment fell 10.2% and consumption was down by 4.2% as joblessness hit a record high with nearly 13 million people unemployed – 12.6% of the formal workforce.
Brazil has been shaken by a slump in prices for its oil, soy, metals and other commodity exports, as well as political instability and a huge corruption scandal.
Finance Minister Henrique Meirelles said after the figures were announced that Brazil is still feeling the effects of the recession but is "clearly" starting to grow.
The downturn contributed to the impeachment of former President Dilma Rousseff last year and to the low approval ratings of her successor, President Temer.
The economy got little boost from the Olympic Games being held there and many of the venues and installations build at huge expense have since been abandoned.
Experts are forecasting Brazil's economy will grow only slightly this year. The consensus is for a very slow rate of 0.5%, which would be insufficient to reduce unemployment.
But some are not sure it can achieve that. "We see zero growth in 2017, or maybe just a little bit above that," said Carlos Kawall, chief economist at Banco Safra, in São Paulo. "We should not see any big recovery this year; we will have to wait until 2018."