Cristina Fernandez in court declares she is victim of "judicial and media prosecution"
Wednesday, March 8th 2017 - 10:21 UTC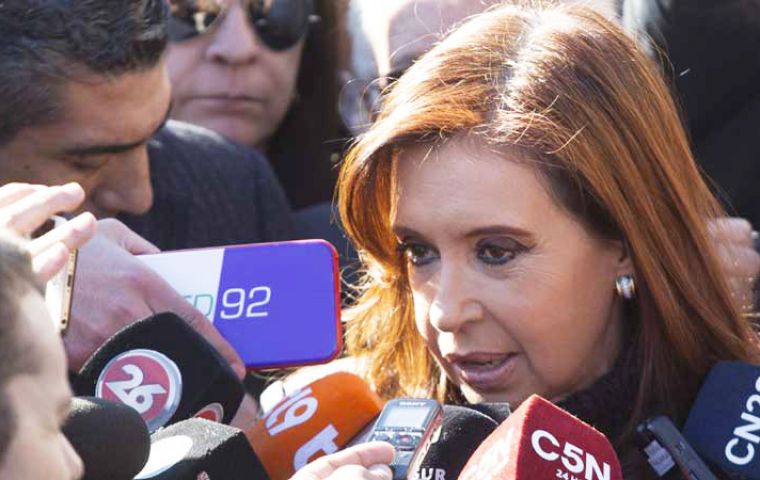 Argentina's ex-president Cristina Fernandez de Kirchner fended off corruption allegations in court on Tuesday, claiming she was the victim of "judicial and media persecution" backed by economic forces, at a politically delicate time for the recession-hit country.

Kirchner, 64, filed written testimony to a court investigating her for alleged illicit association and fraudulent administration in real estate dealings. She is suspected of favoring a construction magnate for public contracts and the head of a gambling empire with licenses. Her family's real estate company Los Sauces is suspected of involvement in bribes.

A few supporters rallied in her support as she arrived at the tightly guarded court to answer a summons by federal judge Claudio Bonadio.

"I am the target of judicial and media persecution, supported by economic forces, which is unprecedented in this country's democracy and which also extends to my children," she said in an online message.

Bonadio on Monday had summoned Kirchner's daughter Florencia, 26, and son Maximo, 40, over their roles in Los Sauces. Bonadio now has 10 days to decide whether to put Kirchner on trial or dismiss the case.

It is the fourth case against Kirchner to reach court since she left office in 2015, and the third in which she faces formal charges.

During the 20 minute hearing, Cristina Fernandez, next to her solicitor Carlos Beraldi, refused to answer questions, and presented a long written summons calling the whole case "absurd and scandalous". Before beginning the session, the former president demanded no cell phone pictures from the court's staff, and when Judge Bonadio walked in she did not stand up.

When asked the formalities of name, address and living means, Cristina Fernandez said she lived with her pet Lolita and had her presidential pension seized by Judge Bonadio (related to another case).

The case comes at a delicate time for Argentina, Latin America's third-biggest economy. Mid-term legislative elections in October pose a key test for President Mauricio Macri, who succeeded Cristina Kirchner in December 2015.

Macri needs to increase his congressional grouping to ensure investors he has a real grasp over the country and his policies. So far he has managed to rule with a deeply divided opposition, precisely because of Cristina Fernandez and other associates are facing serious corruption charges, and they reject her leadership.

However since it is election year, tens of thousands of people joined a mass demonstration in central Buenos Aires on Tuesday, the second day of a strike by teachers and hospital staff. They are demanding pay rises and protesting job cuts and price rises under Macri's economic reforms.

"If you raise my utility costs, I will raise your political costs," read signs waved by the protesters.

Macri's Production Minister Francisco Cabrera said the protests were driven by "political motivations in an election year." Despite the recession, he insisted the economy was creating jobs. Union leaders at the demo called for a general strike at the start of next month, but no specific date was announced which triggered violent reaction from radical groups, allegedly aligned with Cristina Fernandez.