Federal Reserve expected to raise interest rate on Wednesday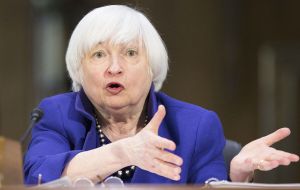 Robust hiring by United States employers in President Donald Trump's first full month in power, along with rising wages, have economists tipping a faster-than-anticipated cycle of interest rate increases by the US Federal Reserve, beginning this week.

The US economy added a better-than-expected 235,000 non-farm payrolls last month to drag down the unemployment rate to 4.7%, around the Fed's estimate of full-employment.

The positive employment figures back up a recent flurry of improving economic data, assuring that the Federal Open Market Committee will lift interest rates on Wednesday. Economists are already looking beyond this week's Fed meeting and tipping a faster pace of future interest rate increases.

Average hourly earnings grew 2.8% in annual terms in February, Friday's employment report showed.

Goldman Sachs is still forecasting three interest rate increases this year, but sees a faster path with hikes in March, June and September.

"Relative to consensus forecasts and current market pricing, we see the risks as tilted toward further tightening," Goldman economist Zach Pandl said.

President Trump claimed credit for the positive employment report, which included solid increases in construction and manufacturing jobs. The jobs data builds on the run of upbeat employment figures published during President Barack Obama's second four-year term.

Trump had mocked the accuracy of official employment figures under President Obama, but his press secretary Sean Spicer said on Friday: "Yeah, I talked to the President prior to this, and he said to quote him very clearly - 'They may have been phony in the past, but it's very real now'."

Most market economists and bond traders are factoring in three interest rate rises this year, with a 20 per cent chance the Fed will hike four times according to Fed fund futures tracked by CME Group.

Goldman also expects the Fed to announce by December a plan to end its full reinvestment in government bonds and mortgage securities, policies that have helped hold down long-term interest rates. The Fed most recently increased borrowing costs in December, to a target range of 0.50-0.75%

The 235,000 extra jobs in February were above the consensus forecast of 190,000. Revised figures for the previous two months added an additional 9000 positions. Labour force participation edged higher last month to 63%, from 62.9%.

Royal Bank of Canada senior economist Nathan Janzen said the stronger economy meant higher rates were needed. However, he cautioned that there was considerable uncertainty about the outlook, especially about the Trump administration's policies.

Mr Trump is due to release his mini-budget this week. The document is a blueprint for the White House's negotiations with Congress on taxing and spending decision.