Four states challenge Trump's second travel ban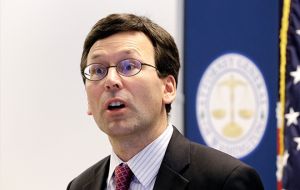 Attorneys general in four states from the United States announced that they will try to block the Trump administration's revised executive order on travel in court, pushing for the temporary restraining order that halted the first order to remain intact.

In early February, U.S. District Judge James Robart issued an order blocking the first version of the ban, which applied visitors from seven Muslim-majority countries and all immigrants. Robart's ruling was upheld by the 9th U.S. Circuit Court of Appeals, leading the Trump administration to issue the new order on Monday.

Washington Attorney General Bob Ferguson said last Thursday his office will file a motion asking Robart to reaffirm that the order applies to the new version of the travel ban, which is scheduled to go into effect next Thursday, March 16.

"We've won in court, and the president has had to honor those defeats," Ferguson told reporters at a press conference in Seattle. "It's my expectation that we will continue to prevail, and certainly my expectation that the president will continue to respect the decision of the court."

Ferguson said the state will continue to argue that the travel ban amounts to a ban on Muslims. In the initial suit, Ferguson's office relied on comments from President Trump and former New York City Mayor Rudy Giuliani, a Trump backer, who said the president asked him to come up with a legal way to ban Muslims.

The new ban, which some legal experts have said avoids some of the pitfalls that hampered the initial version, now blocks citizens of six Muslim-majority countries: Iran, Libya, Somalia, Sudan, Syria and Yemen. Iraqi citizens, covered by the initial ban, will be allowed to travel to the United States under the new order.

New York Attorney General Eric Schneiderman (D), Oregon Attorney General Ellen Rosenblum (D) and Massachusetts Attorney General Maura Healey (D) will join Washington in challenging the new ban.

"President Trump's latest executive order is a Muslim ban by another name, imposing policies and protocols that once again violate the Equal Protection Clause and Establishment Clause of the United States Constitution," Schneiderman said in a statement.