Russian shipping conglomerate suing Venezuela's oil giant PDVSA for unpaid fees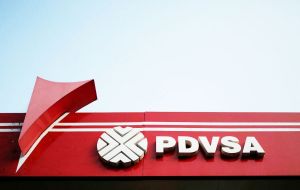 Venezuela's state-run oil company, PDVSA, sent a tanker in October to the Caribbean with the expectation that its cargo of crude would fetch about US$20 million - money the crisis-stricken nation desperately needs. Instead, the owner of the tanker, the Russian state-owned shipping conglomerate Sovcomflot, held the oil in hopes of collecting partial payment on US$30 million that it says PDVSA owes for unpaid shipping fees.

Despite a longstanding alliance between Venezuela and Russia, Sovcomflot sued PDVSA in St. Maarten, a Dutch island on the northeast end of the Caribbean.

"The ship owners ... imposed garnishment on the aforementioned oil cargo," reads a March decision by the St. Maarten court.

Five months after crossing the Caribbean, the NS Columbus discharged its cargo of crude at a storage terminal on St. Eustatius, an island just south of St. Maarten, under a temporary decision by the court. Another tribunal in England will decide if Sovcomflot will ultimately take the oil.

The dispute, which is being heard by the United Kingdom Admiralty Court, highlights how shipping companies are becoming increasingly aggressive in pursuing PDVSA's debts. It also shows that political allies such as Russia are losing patience with delinquent payments from Venezuela, whose obsolete tankers are struggling to export oil and even to supply fuel to the domestic market.

PDVSA also owes millions of dollars to Caribbean terminals - including the one in Saint Eustatius, which is owned by U.S. NuStar Energy (NS.N), according to a PDVSA executive and an employee at one of the facilities.

PDVSA's tangled web of payment disputes now spans the globe, from unpaid shipyards in Portugal and half-built tankers in Iran and Brazil to the seized cargo in tiny St. Eustatius, whose strategic location in the Caribbean made it an 18th century colonial-era trading hub.

The oil price crash starting in 2014 hit Venezuela particularly hard. Once a paradise of oil-fueled consumption, the OPEC nation is now a Soviet-style economy of empty supermarket shelves and snaking food queues.

Russia has consistently supported President Nicolas Maduro with financing arrangements and oilfield investments. State-run oil firm Rosneft RONS.MM has lent money to PDVSA since 2016 and last month was in talks to help PDVSA make a hefty bond payment, according to Venezuelan government and banking sources.

But problems had been brewing for months between Venezuela and Sovcomflot, which provides about 15% of vessels that PDVSA charters to ship crude to its clients amid a steady deterioration of its own fleet, according to a captain and two shipbrokers working with PDVSA.

Detentions of oil cargoes have been unusual because creditors rarely have sufficiently detailed information on tanker movements to obtain timely court orders.

Venezuela also tends to ensure that any cargoes that leave its ports legally belong to the clients rather than to PDVSA, meaning they are rarely in a position to be seized.

The Sovcomflot dispute was different in that the creditors are the tanker owners. Although the crude onboard the NS Columbus had already been sold to Norway's Statoil (STL.OL), the cargo was being carried in a tanker navigating with a bill of lading under PDVSA's name, according to two inspectors and a representative of one of the companies involved.