EU prepared to block Brexit talks unless citizenship measures are "reasonable"
Monday, May 15th 2017 - 07:46 UTC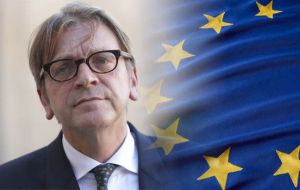 The European Parliament could seek to block talks on a UK-EU trade deal unless guarantees are put in place for the rights of citizens, the MEP in charge of the process has indicated. Guy Verhofstadt, the parliament's chief Brexit negotiator, said MEPs would have to decide whether sufficient progress had been made on issues including EU citizens' rights in the UK and those of British expatriates on the continent before talks on Britain's future relationship with Brussels could proceed.

The former Belgian prime minister indicated the parliament would be prepared to veto any final deal unless the measures on citizenship were acceptable. The guidelines drawn up for the negotiations by Brussels indicate talks on a "future relationship", including trade, will only begin once progress has been made on the UK's withdrawal from the EU, including the status of citizens and the fee that Britain will have to pay to sever ties.

Mr Verhofstadt indicated MEPs would give their view on whether they believed enough progress had been made to allow the second stage of talks to begin. It was "necessary that the parliament takes its responsibility to decide if, yes or no, there is sufficient progress to go from phase one of the negotiation to phase two", he said. MEPs should make that assessment before the leaders of the EU member states meeting in the European Council gave their view on whether sufficient progress had been made.

At a public hearing in Brussels, Mr Verhofstadt said the "victims" of Brexit were already suffering uncertainty about their futures and it was a "massive" problem that needed to be addressed.

MEP Cecilia Wikstrom, chair of the Parliament's Petitions Committee, said the issue concerned "real people" and that the EU could not allow Brexit to "split families".

The Committee heard from a delegation of EU expats living in the UK and Britons worried over the loss of their EU rights. Lawyer Leona Bashow called on the EU to "stand up" for the Britons, as "we are still the EU28". She said: "Please don't leave us adrift when we need you the most,

Jonathan Portes, research fellow at the National Institute of Economic and Social Research, said there should be a determination to "put people before politics."

Immigration lawyer Jan Doerfel said EU nationals who acquired UK citizenship would "lose" their EU rights and the issue of dual citizenship after Brexit needed to be addressed.

Mr Verhofstadt restated his desire to offer Britons living in the UK who wanted to maintain a link to the bloc some of the privileges of being an EU citizen.
Around three million EU citizens live in the UK, with 1.2 million Britons in other EU countries, he said and following the Brexit vote in 2016 "people are anxious, people are afraid of what is happening".