Macri begins official visit to China and attends development forum with 27 world leaders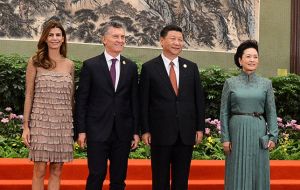 Argentine president Mauricio Macri, First Lady Juliana Awada, and members of the official delegation were received on Sunday by Chinese president Xi Jinping and his wife at the Great Palace of the People, where they were hosted together with 27 world leaders in the framework of the One Belt, One Road, OBOR, Beijing's ambitious international cooperation forum.

Among attending leaders were Russia's Vladimir Putin, Spain's president Mariano Rajoy, Greek Prime Minister Alexis Tsipras, IMF Director General Christine Lagarde, Chilean president Michelle Bachelet, UN Secretary General Antonio Guterres, World Bank president Jim Kim, among others.

During the official dinner Macri sat next to UN's Guterres, and the Argentine First Lady in a table with Kenyan president Uhuru Kenyatta. The ceremony was followed by multicultural display at the Opera House and in the event Macri sat next to Xi and Putin.

On Sunday morning Xi had officially opened the OBOR forum at the National Conventions Center in which the Chinese leader said the initiative was intended to benefit all the world, looking for ways to promote development and "diminish the poverty gap in the world which is ever so globalized but also so much more misbalanced".

Argentina and Chile are the only countries invited at leaders' level to the forum next to 27 other countries: Belarus, Cambodia, Czech Republic, Vietnam, Uzbekistan, Turkey, Switzerland, Sri Lanka, Spain, Serbia, Russia, Poland, Philippines, Pakistan, Myanmar, Mongolia, Malaysia, Indonesia, Laos, Kenya, Ethiopia, Fiji, Greece, Kazakhstan, Italy and Hungary.

OBOR was launched in 2013 to complement development strategies from member countries. The initiative opened to the world intends to increase connectivity, infrastructure, trade, investments as well as financial cooperation and promote tourism, education and sports exchanges.

At the opening session members also mentioned the need to counter protectionist practices, reduce poverty, support sustainable development and combat climate change. Likewise to ensure peace and security and eliminate international terrorism.

Macri started on Sunday a five-day official visit to China with a numerous delegation of officials and business people. Argentina and China are scheduled to sign several accords confirming investments of billions of dollars which include nuclear plants, railways, hydroelectric dams and other infrastructure projects.