Why many Argentines continue to support "corrupt" Cristina Fernandez
Thursday, June 8th 2017 - 09:56 UTC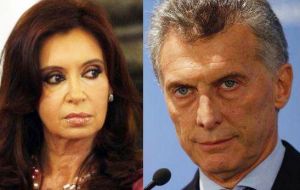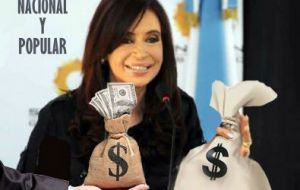 A majority of followers of ex Argentine president Cristina Fernandez "believe she is corrupt", but far from questioning her "they think it is OK", since "obviously she needed the money to get involved in politics", according to Jaime Duran Barba, sociologist and chief electoral advisor of president Mauricio Macri.

Originally from Ecuador, Duran Barba was back in Argentina for the launching of his latest book, "Politics in the XXIst century: art, myth or science", which he presented to Political and Institutional Communications graduates from the Argentine Catholic University.

Although the electoral expert talked about his experience leading successful political campaigns for different regional leaders, he also addressed the Argentine situation ahead of the coming October mid-term elections and downplayed the prevalent idea in many sectors that Argentina is split and there is a "significant political gap"

"In Argentina there is a lot of talk about the gap, and what really happens is that some people are convinced of certain ideas which they really believe in, and will swear on the bible in support, and become emotional when they listen to Cristina Fernandez making a speech".

The so called Macri political guru, argues this really impacts on the strategy to implement: it's not only enough to talk about reality, but rather how to address reality. "In many discussions I listen to people saying that it is essential to explain to public opinion that Cristina is corrupt. And I´m not saying she is or she is not corrupt, but rather that we have found out that over half of those fanatic followers of Cristina believe she effectively is corrupt, and they can live with that and feel it's fine".

The question then is why Cristina followers believe it is OK she is corrupt, and contrary to that they believe that Macri is corrupt. For this purpose Duran Barba consulted sociologist Roberto Zapata, whom he described as "the most brilliant political psychologist in the world", and who makes qualitative surveys.

And why is this? "The matter is that Macri was born to a rich home and had all the money he needed to make politics even before he was born. But Cristina on the other hand was born to a very poor home, the daughter of a bus driver, and obviously had to obtain money to make politics. So it is fine that Cristina managed to make the money, while the corrupt character is Macri".

So what is the next step? "There are different forms of looking at the world. If you look at it from a scientific point of view, don't ever think that those who do not follow your line of thinking are idiots. They are not idiots!! They only have a different vision. What you need is the sufficient serenity, calm to understand the other person and even try to convince him of something different", explained Duran Barba.

Politics have changed and whoever does not adapt will be left out. "That is how society works now and this is a central piece for the political communication: if candidates want to play the role of gods, of super heroes, supernatural and marvelous, they are heading to disaster. This new chapter of humanity is no longer as it was, and it has nothing to do at all with ideology".

In this new scenario, according to Duran Barba the new technologies and changes in telecommunications are playing an influential role. "Since some years now people believe they have the right to give their opinion on everything, and they do. People now address candidates directly, something which they did not do before: they send emails, they express themselves and demand answers. The attitude when people listened to the candidate and would not dare make a question is long over. Most probably, if somebody wrote to a candidate and received no reply, he's going to be quite pissed about it".