Gunman dead after high-speed police chase, hours before OAS meeting in Cancun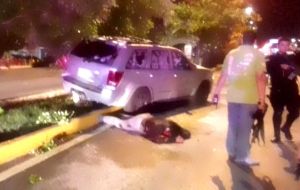 A suspect was gunned down in a shootout with police in Cancun at around 4 am Friday, following the discovery late on Thursday of two plastic bags containing human body parts in the hotel district, Mexican officials said. The incident took place in the area housing most of the luxury hotels, less than 48 hours before the June 19-21 General Assembly of the Organization of American States to be held in the city.

"Order has been restored," the southeastern state of Quintana Roo announced in a statement. Government spokesman Gener Corona said that the man killed was among several assailants aboard a pickup truck who fired shots at law enforcement agents.

The dismembered bodies have not yet been identified. Two of the four additional suspects arrested following the gunfight had bullet wounds, while no civilians were hurt.

After three dismembred bodies were found, troops rushed onto the scene to restore calm six hours later, which resulted in a high-speed police chase through the city center, a hail of bullets terrifying residents and passersby, it was reported.

In April, authorities deployed 1,000 police and army reinforcements in Cancun and the nearby resort town Playa del Carmen in response to a string of multiple shootings. Cancun and Playa del Carmen have been plagued this year by violence that authorities attribute to a turf battle among rival criminal organizations.

In January, an attack on the Cancun bureau of the Quintana Roo state Attorney General's Office left four people dead just days after five perished in a shootout at a club in Playa del Carmen.