Mexico digesting major crude discoveries, delays offshore oil auctions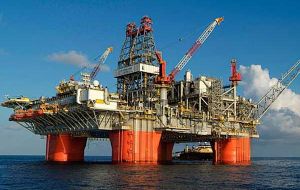 Mexico will delay its next offshore oilfield auctions by a month, giving international bidders more time to evaluate recent major crude discoveries that highlight the potential value of the assets. A new billion-barrel find announced last week "confirms that the Mexican side of the Gulf of Mexico is very prolific," said Juan Carlos Zepeda, Mexico's chief oil regulator in an interview.

July 12 marked perhaps the single most successful day for the Mexico oil industry since the government ended government-owned Pemex production monopoly in 2014. Premier Oil Plc, Sierra Oil & Gas and Talos Energy LLC reported a reservoir with an estimated 1.4 billion to 2 billion barrels of oil in the southern Gulf of Mexico.

On the same day, Italian producer Eni Spa said its March find in Mexico's offshore waters also contains the equivalent of as much as 1 billion barrels, and Mexico successfully auctioned 21 of 24 onshore fields to private companies.

"There was already interest to come, explore and work in the Gulf of Mexico before these finds, but now to have discoveries in such a short time, interest of international entrants to have activity in Mexico has renewed," Zepeda, head of the National Hydrocarbons Commission that oversees the industry, said in Mexico City.

The Talos-led discovery is expected to produce crude in three to four years, Zepeda said. Eni, which won rights to develop three more shallow water areas in the Gulf of Mexico last month, will accelerate development plans as it expects production by as soon as 2019, he said.

Mexico wants to give potential international entrants plenty of time to digest all the new data before they bid for new leases in the region. The country's next deep water auction will be held in January 2018 instead of December as originally planned, Zepeda said. Mexico will announce the fields and acreage amounts for its next deep water auction "in a few days," he said in the interview.

The Mexican government will keep as much as 90% of the profits earned by the Eni project and around 83% of those generated from the Talos consortium, according to a July 16 emailed statement from the Energy Ministry.