England targeting a "smoke-free generation" by 2022
Thursday, July 20th 2017 - 17:04 UTC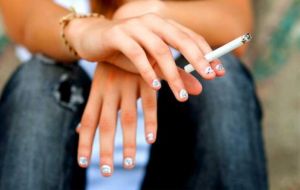 England can become "smoke free", ministers have said, as they announced plans to cut the number of smokers. Unveiling its new Tobacco Control Plan, the UK Government set out a range of targets aimed at adult smokers, teenagers and pregnant women.

It wants to cut smoking rates among adults to 12% or under by 2022, from 15.5% at present. Smoking among 15-year-olds who regularly smoke should also drop by 2022 from 8% to 3% or less. Ministers also want to almost halve smoking in pregnancy by 2022, from 10.7% at present to 6% or under.

An EU-wide survey published earlier this year by the European Commission ahead of World No Tobacco Day found that the highest smoking rates were in Greece (37%), Bulgaria, France (both 36%) and Croatia (35%).

The UK Government said it wants to set a "bold ambition for a smoke-free generation" as it unveiled its plan for England. Being "smoke free" means that smoking rates fall to 5% or under, with one in 20 people or fewer smoking.

Under the plan, local areas will be encouraged to develop their own tobacco control strategies and local smoke-free pregnancy champions will encourage mothers-to-be to quit. There will also be a focus on using e-cigarettes and other stop-smoking devices as aids to quitting.

Public Health England (PHE) will update its evidence report on e-cigarettes and other devices annually until the end of 2022 and include messages about the relative safety of e-cigarettes in stop-smoking campaigns.

Other measures announced include more help for smokers working in the NHS to quit, and working towards a "completely smoke-free NHS estate". There will also be more help for smokers with mental health problems – figures show that more than 40% of adults with a serious mental illness smoke.

There are currently 7.3 million adult smokers in England and more than 200 people a day die from a smoking-related illness which could have been prevented. The difference in life expectancy between the poorest and the richest can be as much as nine years – with smoking accounting for about half of this difference.