Hammond arrives in Argentina on trade mission; scheduled to meet Macri
Tuesday, August 1st 2017 - 06:25 UTC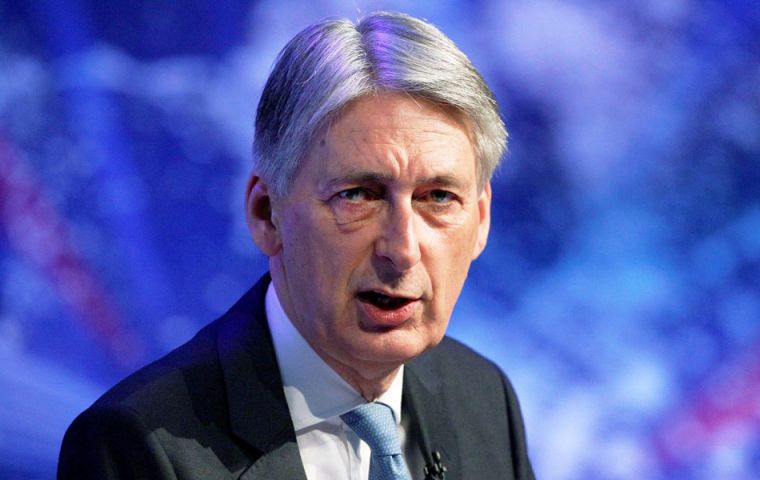 Chancellor of the Exchequer Philip Hammond is scheduled to arrive in Buenos Aires Tuesday evening following a two day business promotion visit to Brazil. It will be the first time a leading UK cabinet minister sets foot in Argentina in sixteen years; the last was when ex Prime Minister Tony Blair met ex president Fernando De la Rua in the Iguazu falls in 2001.

Hammond, who is taking advantage of the August parliament recess, is scheduled to meet president Mauricio Macri, Economy minister Nicolas Dujovne, (whom he met at the recent G20 summit in Hamburg), Finance minister Luis Caputo and foreign minister Jorge Faurie.

The Chancellor is leading a business delegation including the London Stock Exchange, the Green Investment Bank and Crossrail International and is accompanied by City Minister, Stephen Barclay MP, and Trade Minister, Mark Garnier MP.

According to Buenos Aires media, Macri officials will discuss with the Hammond delegation infrastructure opportunities, insurance and green finance, and the 2018 G20 presidency of Argentina. The media also underlines that all foreign business and diplomatic visits have expressed concern about possible future political changes in Argentina, particularly referred to legal security and impartial courts, given the experience of recent years.

But the idea is to continue with the trade and investment opportunities opening which received a big boost from the UK during last year's visit of Greg Hands when he announced the commitment of US$ 1.3 million to promote bilateral exchanges.

As to the Falklands' issue media speculates that there might be a reaffirmation of the two positions, in the current constructive scenario, and since Argentina needs UK support for its OECD membership aspiration, Hammond could also remind hosts that there is much of the joint September communiqué to be addressed.

As Secretary of Defense Hammond in 2015 strongly supported the Falklands saying that "bullying and harassment to which the Islanders continue to be subjected is shameful, counterproductive, it's wrong and it must stop".

But despite the new atmosphere, Argentina and UK are well aware that once Brexit becomes effective, European Union members can vote uncompromised on the Falklands sovereignty dispute.