Hammond begins round of trade and political talks in Argentina
Wednesday, August 2nd 2017 - 07:33 UTC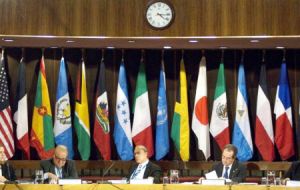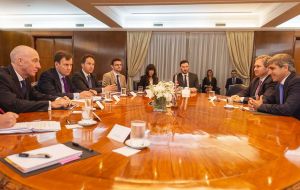 The Chancellor of the Exchequer begins on Wednesday a round of trade, investment and political contacts in Argentina, following a two day visit to Brazil, as part of a tour of South America's biggest economy. It will be the most important visit of a British cabinet minister in over sixteen years to Argentina.

Hammond is scheduled to meet ministers of economy, finance, foreign affairs, and with president Mauricio Macri, who is in the midst of a crucial midterm election to ensure a sufficient majority in Congress and convince investors that Argentina will not turn back to the last decade of populist policies.

The business delegation and officials travelling with Mr. Hammond are expected to hold talks with local businesses and financial institutions and consider potential investment opportunities in an ambitious infrastructure program which the Macri administration has started to implement.

The political contacts will refer to the many issues in which both countries hold similar positions in world affairs, despite existing differences over the Falkland Islands dispute. A new constructive spirit means UK is ready to support Argentina's admission to OECD and Argentina's organization of the G20 summit in 2018 to be held in Buenos Aires.

Likewise UK would like to continue advancing with the September 2016 joint communiqué, including the chapter on the South Atlantic and its commitments to facilitate Falklands' trade, connectivity, communications and joint scientific approach to natural resources in the area.

Likewise the British Government is re-introducing export credit financial support for UK businesses looking to trade with Argentina after an almost 20 year hiatus. In effect last March, the UK Export Finance, the government's export credit agency, extended up to £1 billion (US$ 1.2bn) of support to help UK companies secure business in Argentina.

The £1.2 billion support will help UK companies secure contracts by providing attractive financing terms, loans for delivering projects and insurance against the risks of operating in other countries.

On Tuesday in Brazil, Hammond met investors and launched the UK-Brazil Green Finance Partnership in Sao Pablo. He also announced that the UK export finance support available for trade with Brazil will double to £3 billion meaning an additional £1.5 billion in support for UK companies exporting to Brazil and for Brazilian buyers.

The Chancellor also pledged to fund £80million aid to help reduce poverty and fund economic development in Brazil. The cash comes from the five-year £1.3billion Prosperity Fund which is designed to improve growth in developing countries. A report by the aid watchdog in February said use of the fund for richer developing countries should be restricted.

Mr. Hammond made the announcement in a joint statement with the Brazilian finance minister. They said the cash is designed to 'support Brazil in targeted areas of its economic development and poverty reduction efforts'.

The statement continued: 'This partnership will also expand the potential for global trade, catalyze investment and increase opportunities for international business in Brazil, helping to secure Brazil's economic growth.' He added that the cash is designed to 'support Brazil in targeted areas of its economic development and poverty reduction efforts'.