Indian Navy all women team in global tour scheduled to call in Falklands
Sunday, August 20th 2017 - 13:47 UTC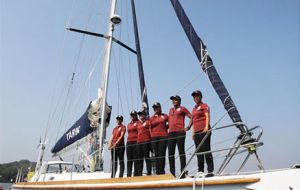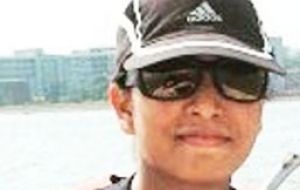 A six-member women's team of the Indian Navy will set sail in early September to circumnavigate the globe on the sailing vessel, INSV Tarini. This is the first-ever circumnavigation of the globe by an all-woman crew from India, and one of the calls will take place in the Falkland Islands.

Titled Navika Sagar Parikrama, the voyage will begin at Goa in the first week of September and end in March next year.

The voyage will be made in five legs, with stopovers at four ports: Fremantle (Australia), Lyttleton (New Zealand), Port Stanley (Falkland Islands) and Cape Town (South Africa).

"The Pacific leg between New Zealand and Falklands would be the longest one. Some of the roughest seas are in this stretch," Lieutenant Commander Vartika Joshi, the skipper of the ship, told reporters.

The other members of the team are Lt Cdrs Pratibha Jamwal and P. Swathi, and Lieutenants S. Vijaya Devi, B. Aishwarya and Payal Gupta.

They were selected from about 20 volunteers.

"We will carry all sources of entertainment with us, books and DVDs to keep us occupied," said Lt Cdr Joshi, when asked about the ways to fight boredom on the high seas during the eight-month journey.

With regard to safety measures, Vice-Admiral A.K. Chawla, Navy's chief of personnel, said "There are enough communication and emergency systems on board. In addition all major Navies do patrols. Our aircraft on routine patrols would also swing by to pass over their location."

INSV Tarini is a 55-foot sailing vessel, which has been built indigenously, and was inducted in to the Navy earlier this year.