Montevideo port operators warn about increase costs' increase and loss of activity
Friday, August 25th 2017 - 12:11 UTC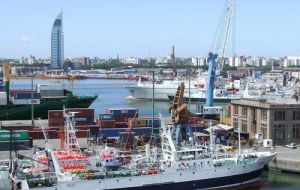 Montevideo port agents and operators have publicly expressed their concern regarding some articles included in the current budget discussions which are contrary to the constitution, labor legislation and will unnecessarily increase costs and have a direct impact on the port's competitiveness.

The dispute in centered in an article included in the budget referred to port and harbor activities which makes mandatory for operators to contract temporary labor crews for a minimum of thirteen days, even when they are only needed for a shorter period of time such is the case with seasonal loading and unloading operations.

In half page statements in the Montevideo media, the Uruguayan Navigation Center argues that article 116 of the budget bill is drafted in time and content far beyond the constitutional framework.

Furthermore it violates and weakens current labor legislation which promotes negotiations and agreements between companies and personnel, forcing operators to unnecessary contracts and payments.

The result of article 116 is also contrary to the ports' reform which was geared to make Montevideo an efficient, competitive, reliable terminal for domestic and regional businesses.

Finally the implementation of article 116 will mean an increase in costs, will have a direct impact on the port's activities, Uruguay's foreign trade, transshipments and ultimately will mean a loss of jobs.