Scottish government anticipates no consent motion to vote on EU Withdrawal Bill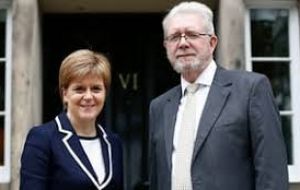 The Scottish government will not ask Holyrood to give consent to the EU Withdrawal Bill in its current form. Brexit minister Mike Russell told MSPs that the legislation posed a threat to the founding principles of devolution. The Scottish government said there will be no consent motion for MSPs to vote on "at this time", and it will instead seek to amend the bill.

The UK government has insisted that Holyrood will see "significant" new powers devolved after Brexit. Talks between the two governments over post-Brexit powers for Scotland ended in stalemate in August, although more are expected to be scheduled.

The EU Withdrawal Bill, which won its first Commons vote in the early hours of Tuesday, is the first step in the legislative process of taking the UK out of the European Union.

This process is chiefly one for Westminster, but the consent of the Scottish and Welsh administrations will be sought because the move cuts across devolved areas. The Edinburgh and Cardiff governments have been working together on their opposition to the bill, which both have claimed represents a Westminster "power grab" on the devolved parliaments.

Both have said they cannot recommend consent be given to the legislation in its current form, but have said they will put forward potential amendments to UK ministers.

This was underlined by a formal legislative consent memorandum published by the Scottish government, which underlined "fundamental" opposition to the "basic approach" of the legislation as drafted.

The memo said ministers did not intend to bring forward a consent motion, which would be voted on by MSPs, on the current draft of the bill - they said this could follow at a later date, if the approach of amending the legislation fails to resolve differences.