Powerful wide ranging earthquake kills at least 200 in Mexico; thousands flee in panic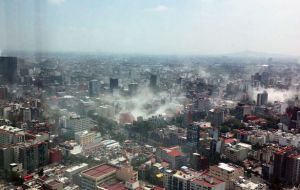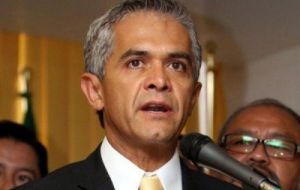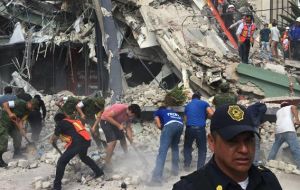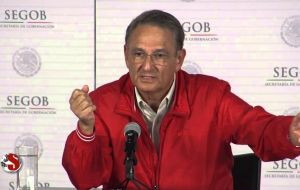 A powerful earthquake shook central Mexico on Tuesday, collapsing buildings in plumes of dust and killing at least 200 people. Thousands fled into the streets in panic, and many stayed to help rescue those trapped.

Dozens of buildings tumbled into mounds of rubble or were severely damaged in densely populated parts of Mexico City and nearby states. Mayor Miguel Angel Mancera said buildings fell at 44 places in the capital alone as high-rises across the city swayed sickeningly.

Hours after the magnitude 7.1 quake, rescue workers were still clawing through the wreckage of a primary school that partly collapsed in the city's south looking for any children who might be trapped. Some relatives said they had received Whatsapp message from two girls inside.

The quake is the deadliest in Mexico since a 1985 quake on the same date killed thousands. It came less than two weeks after another powerful quake caused 90 deaths in the country's south.

Luis Felipe Puente, head of the national Civil Defense agency, reported on Tuesday night that the confirmed death toll had been raised to 200.

His tweet said 55 people died in Morelos state, just south of Mexico City, while 49 died in the capital and 32 were killed in nearby Puebla state, where the quake was centered. Ten people died in the State of Mexico, which surrounds Mexico City on three sides, and three were killed in Guerrero state, he said.

The count did not include one death that officials in the southern state of Oaxaca reported earlier as quake-related.

The federal government declared a state of disaster in Mexico City, freeing up emergency funds. President Enrique Peña Nieto said he had ordered all hospitals to open their doors to the injured.

Mancera, the Mexico City mayor, said 50 to 60 people were rescued alive by citizens and emergency workers in the capital. Authorities said at least 70 people in the capital had been hospitalized for injuries.

The federal interior minister, Miguel Angel Osorio Chong, said authorities had reports of people possibly still being trapped in collapsed buildings. He said search efforts were slow because of the fragility of rubble.

"It has to be done very carefully," he said. And "time is against us."

The quake sent people throughout the city fleeing from homes and offices, and many people remained in the streets for hours, fearful of returning to the structures.

Alarms blared and traffic stopped around the Angel of Independence monument on the iconic Reforma Avenue. Electricity and cellphone service was interrupted in many areas and traffic was snarled as signal lights went dark.

The U.S. Geological Survey said the magnitude 7.1 quake hit at 1:14 p.m. (2:15 p.m. EDT) and was centered near the Puebla state town of Raboso, about 76 miles (123 kilometers) southeast of Mexico City.

Much of Mexico City is built on former lakebed, and the soil can amplify the effects of earthquakes centered hundreds of miles away.