Brazilian police discovers 500-meter tunnel and foils record bank heist plot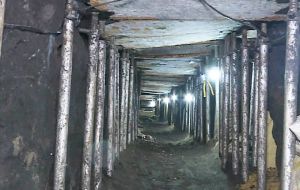 Brazilian police say they have foiled a bank heist plot in which would-be robbers dug a 500-meter tunnel to a Sao Paulo branch of government-owned Banco do Brazil.

The Sao Paulo state Public Safety Department said on Tuesday in a statement that agents had been monitoring the gang for three months but only discovered the tunnel on Monday.

By then the tunnel was complete. But police arrested 16 suspects before they could pull off the heist. They allegedly told officers they had hoped to steal one billion Reais or the equivalent of US$317 million.

Investigator Fabio Pinheiro Lopes said the gang spent US$1.27 million to build the tunnel from a rented home nearby.

"It would have been the world's biggest heist," Fabio Pinheiro Lopes said in an interview with O'Globo television.

Police said work on the tunnel began four months ago, starting from a house several blocks from the bank. It had sophisticated supports, fans and light.

Twelve years ago a different gang tunneled into a bank vault in Fortaleza and made away with US$70 million in the Brazilian currency Real.