Obama officials treated "special relationship with Britain as a joke" and liked to refer to Falklands as Malvinas
Thursday, October 12th 2017 - 12:04 UTC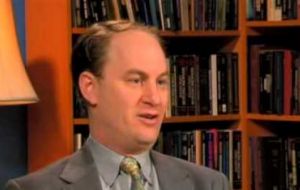 The so-called special relationship between the United States and United Kingdom was regarded as a joke by Obama administration officials, a former government aide has said. Jeremy Shapiro, who served as an adviser in the US state department under Barack Obama, said the relationship was "unrequited."
According to reports in the London media, Shapiro told the Cheltenham Literature Festival that while officials publicly stressed the importance of the relationship, in private they mocked the idea, making jokes about the Falklands.
Shapiro said he would insert references to the Malvinas – the Argentine name for the Falkland islands – into press conferences. This despite the fact the Falkland Islands remain as a British Overseas Territory.
Shapiro, who served as a senior adviser to the assistant secretary of state for European and Eurasian Affairs between 2009 and 2013, told an audience the US-UK bond "was never really something that was very important to the United States".
"From my perspective it was very important for us to mention the special relationship in every press conference that we had when the UK were here," he said
"But really we laughed about it behind the scenes. Typically, I would try and slip in a reference to the Malvinas or something to spoil it."
He added: "It was a close relationship, a good relationship and a productive relationship. "But it was the kind of relationship we would have with other countries."