Falklands welcomes the registry of a new freezer trawler
Thursday, October 19th 2017 - 07:27 UTC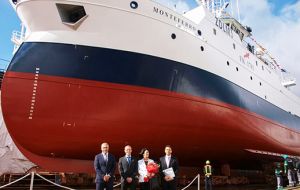 The Falkland Islands Executive Council this week welcomed the registration of the new Falklands fishing vessel freezer trawler Monteferro belonging to Kalamar Ltd. MLA Mike Summers said: "This is the second major private sector investment in fishing vessels this year, and represents good progress in the industry."

"Monteferro" belonging to the group headed by the Fontán Domínguez was delivered on Wednesday during a ceremony attended by two hundred guests and held at the Nodosa shipyard in Pontevedra, Galicia.

The trawler is 63.7 meters long, 12 meters beam and has a 1.500 gross tonnage.

The Nodosa shipyard currently has an order for six fishing vessels, four of them in construction and two still in the blueprints.

"Besides the current construction orders, we also have a long list of vessels undergoing repairs and maintenance", explained Rafael Outerial, Nodosa general manager during the ceremony and reception.

Outerial also anticipated that before the end of the year "we hope to make further announcements regarding new vessels", since the Galicia cooperative of fishing vessels owners is in the process of renewing much of its fleet, an undertaking which took off in 2016.