Bomb in Colombia city of Barranquilla kills seven officers, wounds 41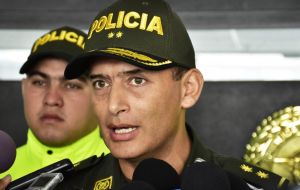 At least seven police officers were killed and 41 others wounded on Saturday when alleged drug traffickers detonated a bomb at a station in the Colombian city of Barranquilla. The attack comes as President Juan Manuel Santos seeks to end the armed conflict that has wracked Colombia for 50 years. Much of the violence has been linked to drug trafficking.

The bombing in Barranquilla was one of the deadliest on security personnel in recent years, casting a pall over preparations for the annual carnival, a major attraction in the bustling Caribbean port city.

Barranquilla police commander Mariano Botero said the bomb detonated as the officers gathered for morning formation. A police source said 49 officers were at the site when the bomb exploded. Of those, seven officers aged between 24 and 31 were killed and 41 were wounded.

A 31-year-old man was arrested on suspicion of carrying out the attack, according to Attorney General Nestor Martinez. "We will charge [him] with five aggravated murders … attempted murder, terrorism and use of explosives," Martinez told a press conference.

Barranquilla Mayor Alejandro Char quickly blamed drug traffickers for the attack. "I do not have the slightest doubt that this is retaliation" for successful police action against drug traffickers, he told reporters.

Botero also suggested that the attack could be in revenge after a police crackdown on local drug traffickers.

Colombia is the world's top producer of cocaine, and criminal groups have flooded the country's main cities with drugs in a move known as "micro-trafficking".

President Juan Manuel Santos blasted the "cowardly attack" on Twitter. "We will not rest until we find those responsible, my solidarity is with the families of the victims and the wounded," Santos wrote.

Joining Santos was the presidential candidate of the FARC, the former guerrilla group which is now a leftist political party.

Rodrigo "Timochenko" Londono "vehemently" condemned the Barranquilla attack. "All our solidarity is for the relatives of the slain police," he wrote on Twitter.

Santos reached a historic peace agreement with the FARC — formerly known as the Revolutionary Armed Forces of Colombia — in November 2016. That led to the rebels' disarmament and transformation into a political party.

The president, who is set to step down in August, is hoping to reach a similar agreement with the smaller National Liberation Army (ELN) guerrillas.