Argentina organizing Falklands charter for relatives of newly identified remains at Darwin cemetery
Friday, February 2nd 2018 - 00:28 UTC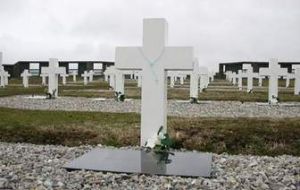 The Argentine government is organizing a trip to the Falklands with relatives of the 88 combatants buried in Darwin and whose remains were recently identified by a team on international forensic experts, following a humanitarian agreement between UK and Argentina, and Falklands consent, and implemented by the International Red Cross Committee.

According to reports in Clarin, quoting official sources the delegation to the Falklands will be led by the Human Rights Secretary Claudio Avruj, and should take place before April 2nd. Relatives will be carrying a black granite plaque with the name of their beloved to replace those in 88 graves at the foot of the crosses, which since the end of the conflict in 1982 read, "Argentine soldier, known unto to God".

Apparently a charter will be contracted carrying two relatives for each of the 88 now buried identified combatants, and further details of the operation will be discussed on Friday between the Argentine foreign minister Jorge Faurie, human rights secretary Avruj and members of the National committee of relatives of the fallen in Malvinas and the South Atlantic islands. It is anticipated that a special guest of the flight will be the British former Captain Geoffrey Cardozo, who was responsible for the burial of the Argentine combatants in 1982.

Likewise the charter, plaques and other expenses apparently will be financed by Corporación America, the same Argentine company which paid for the reconditioning of the Argentine memorial in Darwin at the turn of the millennium, with cost estimated in over a million dollars.

However there are some additional points to address. Allegedly some relatives would like to spend more time in the Falklands visiting some of the battle sites and other memorabilia, and next of kin of those who were clearly identified since 1982, wish to join the charter and hold a ceremony with representatives from the different religions involved. Similar to the ceremony in 2009 when the Argentine memorial was officially inaugurated in Darwin.

But the trips of next of kin which the Argentine government has sponsored in the past only included the round flight to the Falklands and to the Darwin cemetery.

Clarin finally comments that the most practical way of addressing the charter flight would be to contract Aerolineas Argentinas, but the "Falkland Islanders do not consent to the Argentine flag carrier landing in the Islands".