Western leaders abhor nerve-agent attack and point to Russia: "no plausible alternative explanation"
Friday, March 16th 2018 - 10:28 UTC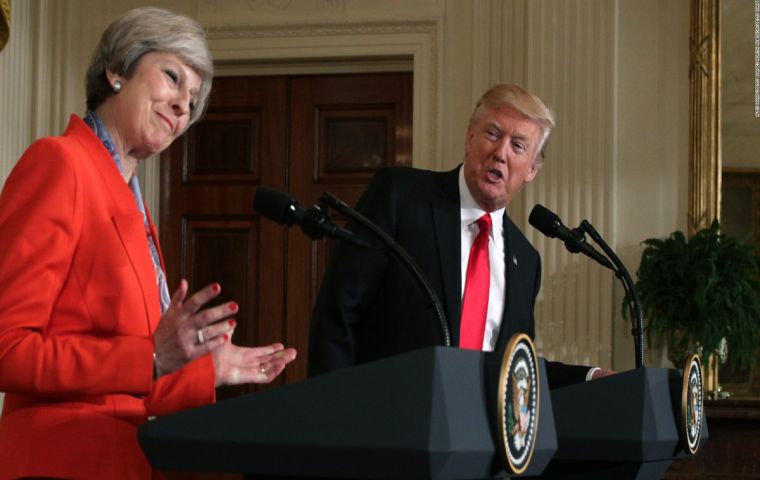 The leaders of France, Germany, the US and UK say there is "no plausible alternative explanation" to Russia having been behind the nerve agent attack in the UK. They condemned the "first offensive use of a nerve agent in Europe since the Second World War", calling it an assault on UK sovereignty.

In Washington, US President Donald Trump said "it certainly looks like the Russians were behind it". A "very sad situation" that the US was taking "very seriously".

"We do hold Russia culpable for this brazen, brazen act and despicable act," Prime Minister Theresa May said during a visit to the site of the attack in Wiltshire.

In France, President Emmanuel Macron snubbed the official Russian stand at the Paris book fair on Thursday. Earlier Mr Macron said he would announce more measures in the coming days.

Russia has denied any involvement and vowed a swift response to the expulsion of 23 of its diplomats, whom the UK said were operating as spies.

The nerve agent was used on a former Russian spy and his daughter in the city of Salisbury. Sergei Skripal, 66, and Yulia Skripal, 33, remain in a critical condition in hospital.

The four nations say they "abhor the attack".

The statement says: "It is an assault on UK sovereignty and any such use by a State party is a clear violation of the Chemical Weapons Convention and a breach of international law. It threatens the security of us all."

The nations urged Russia to "address all questions related to the attack" and provide all details about the nerve agent used. It added: "Our concerns are also heightened against the background of a pattern of earlier irresponsible Russian behavior.

Russia says it had nothing to do with the attack and will respond to UK measures against it.

Kremlin spokesman Dmitry Peskov said the UK was being "absolutely irresponsible". Foreign Minister Sergei Lavrov has vowed a response "very soon".

Meanwhile Deputy Foreign Minister Sergei Ryabkov has denied that either the Soviet Union or Russia ever had a program to create the Novichok nerve agent identified as having been used, the Interfax news agency reported.