Queen Mary 2 returns to New York for the 2018 Transatlantic Season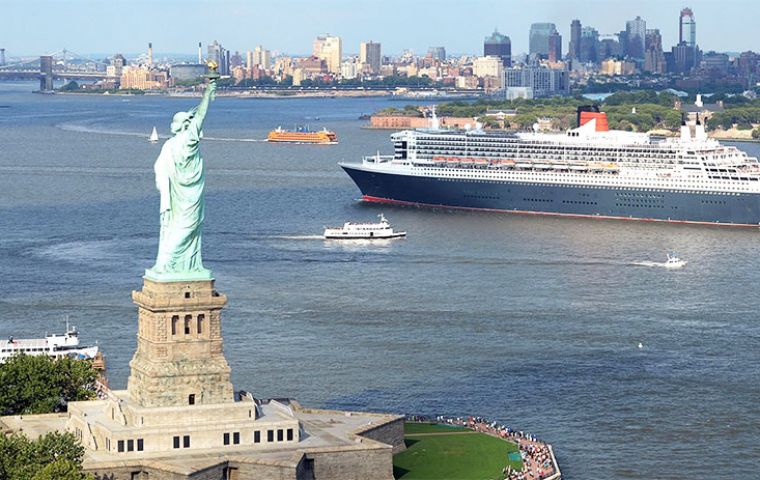 On Thursday 17 May, Cunard's flagship ocean liner Queen Mary 2 returns to her homeport of New York for her 2018 Transatlantic Season. Following another successful World Cruise season, QM2 will resume her regularly-scheduled service across the Atlantic, a route that began 178 years ago.

Now more than ever, Queen Mary 2's Transatlantic Crossing offers travelers a unique and precious escape from day to day life. Traveling leisurely by sea between New York and England, for seven nights in the North Atlantic, passengers have the time and luxury to dive deeper into their passions and crafts, to explore creative expression, and to hone personal and professional projects that range from journal writing and sketching, to polishing screenplays, musical scores and more.

Celebrities, writers and artists who have made the most of QM2's Transatlantic Crossings include songwriter, music producer, and actor Ed Sheeran who sailed from New York to England and wrote parts of his latest hit album "Divide;" filmmaking director and screenwriter Wes Anderson, who wrote much of his movie "Isle of Dogs;" and legend Francis Ford Coppola who boarded the liner to put the final touches on his book "The Godfather Notebook."

"Over the past year, Cunard has seen an incredible demand for our product and experience from regions around the world, with double-digit growth within the North American market," said Josh Leibowitz, senior vice president of Cunard North America. "The unique opportunity to step away from day to day life and feel inspired, enriched, and revitalized is one of the reasons passenger feedback continues to be among the best in the industry."

Not only are celebrities and artists fans of Cunard, but royalty has an affinity for QM2 as well. Christened by Her Majesty Queen Elizabeth II in 2004, Queen Mary 2 has hosted numerous royals on board and is excited to play an integral role in rising tourism to the UK this summer as travelers head to London to get a glimpse of Prince Harry and Meghan Markle's wedding site, tour St. Mary's Hospital, where the newest prince was just born, and enjoy the excitement that a new generation of royals ushers in.

QM2 passengers are also thrilled at the opportunity to travel with their four-legged companions onboard the Queen Mary 2, the only ship with kennels on board for dogs and cats.