Surging global population adds to water crisis warns UN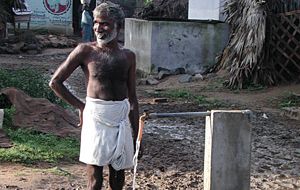 The surging growth in global population, climate change, widespread mismanagement and increasing demand for energy have tightened the grip on the world's evaporating water supplies, warned a new United Nations report released today.
As the world's population has swollen to well over 6 billion people, some countries have already reached the limits of their water resources, according to the report compiled by 24 UN agencies.
"Climate change is going to make this situation worse," said William Cosgrove, Content Coordinator for the UN World Water Development Report.
"Not just because it's going to increase climate variability but because generally it's going to increase the stresses [on water resources] in the places where they already exist," Mr. Cosgrove told a news conference in New York.
The "Water in a Changing World" report, a comprehensive triennial assessment of freshwater resources, was launched at UN Headquarters today ahead of the Fifth World Water Forum to be held in Istanbul, Turkey, from 16 to 22 March.
Due to climate change the report estimated that almost half the world's population will be living in areas of high water stress by 2030, including between 75 million and 250 million people in Africa. In addition, water scarcity in some arid and semi-arid places will displace between 24 million and 700 million people.
There is a strong link between poverty and water resources, the report noted, with the number of people living on less than $1.25 a day approximately coinciding with the number of those without access to safe drinking water.
The report highlighted the major impact this situation has on health as almost 80 per cent of diseases in developing countries are associated with water, causing some three million early deaths. For example, 5,000 children die every day from diarrhoea, and roughly 10 per cent of all illnesses worldwide could be avoided by improving water supply, sanitation, hygiene and management of water resources.
"Demand is increasing. It's creating competition and what we need are improved water management, better legislation and more effective and more transparent allocation of water," said Mr. Cosgrove.
He noted that the strain on water resources increases dramatically as living standards improve, urban areas grow and consumption levels increase and consequently the demand for energy spikes.
Dramatic increases in the production of biofuels, including the tripling of ethanol between 2000 and 2007, and the need for 1,000 to 4,000 litres of water to create a single litre of biofuel, have also added to the pressure put on worldwide water resources.
"The world's need for energy is going to increase by 60 per cent by the year 2030 – this is a forecast by the International Atomic Energy Agency – and the demand for this energy is going to come from the developing countries," noted Mr. Cosgrove, with the dependence on hydropower also estimated to rise by 60 per cent.
"With increasing shortages, good governance is more than ever essential for water management," stressed the Director-General of the UN Educational Scientific and Cultural Organization, Unesco, Koïchiro Matsuura, who will present the report on 16 March in Istanbul.