Zelaya denies Brazil was aware of his plans to return to Honduras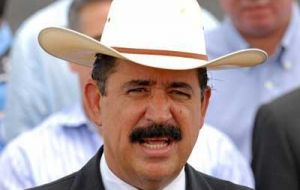 Ousted Honduran president Manuel Zelaya said that Brazilian president Lula da Silva did not know about his decision to return to Honduras and claimed that followers calling for his reinstatement have been viciously beaten up by police in Tegucigalpa, according to reports in the Brazilian press.
"Not president Lula da Silva, or Marco Aurelio (García, advisor to Lula da Silva) or Celso Amorim (Brazilian Foreign Secretary) knew beforehand about my return to Tegucigalpa", said Zelaya from the Brazilian embassy where he has holed in since September 21.
"When I arrived to Honduras I had several options where to take refuge, but I chose Brazil; I spoke with Amorim and told him I wanted to attempt a dialogue from the embassy and also because of security reasons since I feared reprisals or been sacrificed by the regime (of de facto president Roberto Micheletti)", said Zelaya.
Brazilian Foreign Secretary Celso Amorim revealed before Congress that Zelaya had in effect requested Brazil supply an aircraft for his return to Honduras, but he personally denied it. The argument was that OAS Secretary General Jose Miguel Insulza had been supplied with a Brazilian aircraft for his trips to Honduras.
Brazilian senators are highly suspicious that President Lula da Silva knew all about Zelaya's return beforehand, and summoned Amorim to the Foreign Relations committee.
Zelaya also stated that marches in favour of his reinstatement and the return of democracy are "very active and taking place all over the country", but repression is violent and fierce, "there's a state of ungovernability".
"I think Honduras should not live under a state of convulsion, unless we want to become Afghanistan", said the ousted leader. "Latinamerica does not deserve what is happening, nor does the people of Honduras".
Zelaya revealed that all communications and cellular phones in the embassy have been cut off by Honduras illegitimate authorities, "but we are resisting with stoicism, patience, because above all is democracy which must be reinstated".
He then went on to praise Lula da Silva. "His government has shown its commitment to democracy having accepted a national dialogue from the embassy in Tegucigalpa".
"This is another evidence of the continental moral and political stature of Brazil", he added. "Redressing the coup in Honduras will be a vaccine against all coups in all Latinamerican countries, including Brazil. We're rewriting history next to Brazil", concluded Zelaya.